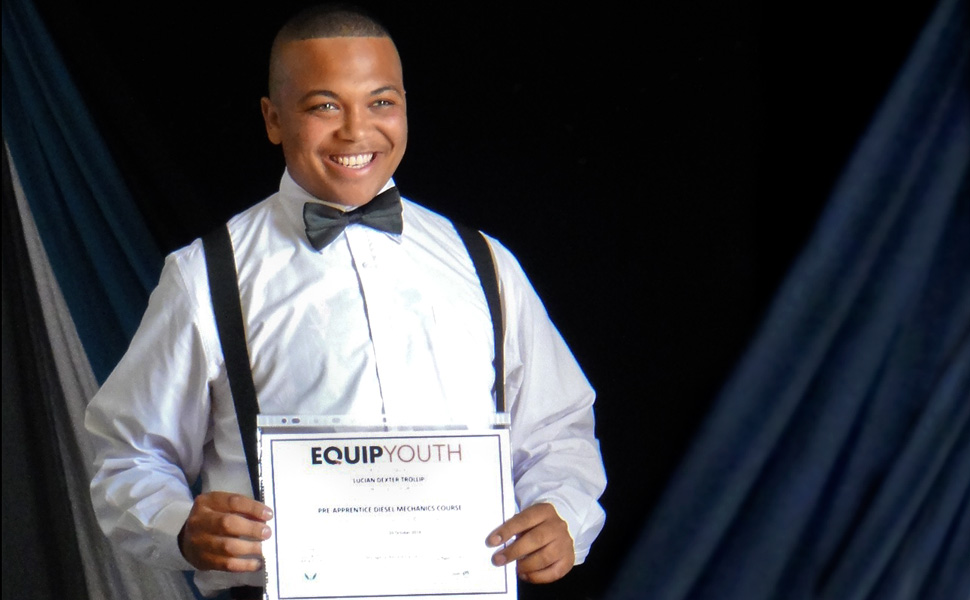 "Coming from the circumstances I grew up in it makes it difficult to go forward," says Lucian. The 23-year-old describes the mentality in his hometown of Reiger Park, South Africa, as "crime before education." Having dropped out of college to work when his girlfriend became pregnant, this young father has struggled with negative social pressures.
Now, thanks to technical and life skills training, Lucian has found a pathway to a promising career. After learning about the EquipYouth program from a bulletin at church, he left a low-skilled job at a nearby factory to enroll as a diesel mechanics trainee.
EquipYouth is an initiative of the International Youth Foundation (IYF) and Caterpillar's philanthropic organization, the Caterpillar Foundation. It is providing young men and women in 11 countries—including South Africa—with market-relevant technical and life skills training and job placement support and services. To date more than 600 underserved young people have completed EquipYouth training in South Africa, which is offered through St. Anthony's Education Centre in Reiger Park.
A strong supporter of the initiative in South Africa, CAT dealer Barloworld Equipment has worked with St. Anthony's to develop a high-quality diesel mechanics course that is preparing young people for employer-run apprenticeships. These apprenticeships, which have very competitive entry requirements, put youth on a clear path to becoming fully certified artisans.
"Entering a market with a shortage [of workers] gives you hope," Lucian says about his training. He calls his diesel mechanics instructor "the best lecturer in South Africa," in large part because he helped Lucian feel comfortable asking questions when he didn't understand complex ideas. In addition to his new technical skills, as part of EquipYouth Lucian has learned about confidence, a positive attitude, and goal-setting from IYF's Passport to Success® (PTS) life skills curriculum. Lucian credits the way PTS is taught, specifically the patience and dedication of lead facilitator and former St. Anthony's Center Director, Vanessa, for how it has shaped him.
"PTS changes the way you perceive things," says Lucian. "It encourages me to move forward and become someone who can give back to my community."
St. Anthony's is working to schedule interviews for Lucian, who recently completed the EquipYouth program, and other diesel mechanics graduates. Lucian is optimistic for the future, confident in his abilities, and has aspirations to be a lecturer. Now, he says, "I'm the best I can be."