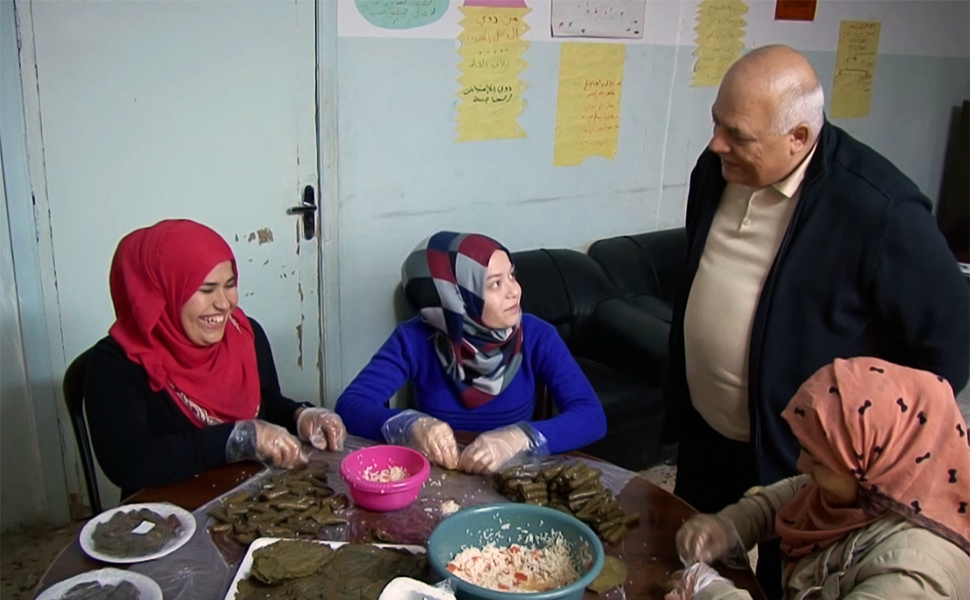 I first began working with youth after college, when I volunteered with the Red Cross helping Syrian refugees in my hometown in Jordan's Jerash governorate. I was working on the front lines giving out supplies and food, and I also trained in first aid. That's when it hit me: my heart felt happy by helping others and being able to contribute with small acts of kindness in my own hometown.
Four years later, in September of 2015, I started working at IYF, as Employment Coordinator for the Upgrading Informal Apprenticeships initiative with the International Labour Organization. Our objective was to prepare 400 young people with theoretical training, Passport to Success® life skills lessons, occupational safety and health, and practical on-the-job experience through apprenticeships—all in a six-month period. My main responsibilities were to match youth with their apprenticeships and facilitate trainings.
The opportunity to work with IYF was really appealing, because I believe we must work with youth to harness their good ideas and encourage them to stay on the right track. And, simply put, I love working with young people.
For this project, we began outreach across the country, in the governorates of East Amman, Zarqa, Irbid, Tafeeleh, and Ma'an. Reaching youth proved challenging in Ma'an in particular; we had to travel there several times. At first, the groups of young people didn't understand what the initiative offered. We changed our approach and finally targeted a younger category of unemployed youth, ages 16 to 24. They understood what they were committing to, and they were ready and excited to take part and reap the benefits.
After we were able to enroll young participants, we saw the difficulties they faced. Some youth felt discouraged because they lacked the money needed for transportation to their apprenticeships. Transportation also became a challenge when the parents of youth, especially those whose daughters were enrolled, wouldn't allow them to commute to their apprenticeship places because they didn't want them traveling late in the day.
Here are a few of the ways we worked to encourage program completion, make transportation less of an issue, assuage parents' concerns, and remove barriers to young women's participation:
Emphasizing the importance of finishing on-job training and awarding certificates only after apprenticeships were completed
Engaging parents directly, to gain their support
Increasing community buy-in by enlisting companies who are well known and well regarded locally
Offering young people mentors who listened to any concerns, provided encouragement, monitored learning and progress, and ensured youth were happy with the profession
Working to secure apprenticeship as close to participants' homes as possible
Finding small and medium enterprises who were willing to host groups of young women apprentices, which satisfied parents because each group could travel to and from a job site together
I was very fortunate to be able to act as a mentor for youth, from enrollment through their apprenticeships. Following up with them as they moved forward, I saw a noticeable change in the young people's demeanor, especially after the apprenticeships. They would thank me or say things like, "This might be the beginning of something good!" We've reached over 400 youth, and I'm especially proud to hear their dreams for continuing and depending on themselves, especially the young women. "After receiving the theoretical and practical training, I am now ready and qualified for the labor market," said 20-year-old apprentice Tharwat in the ILO video "Tackling Youth Unemployment in Jordan through Apprenticeships."
You can also see the way these well-trained young people are impacting local businesses. I remember very specifically a supervisor from Carrefour ecstatically asking me, "Do you have more of these talented, well-trained young people?"
Reflecting on these six months, I've felt so rewarded to see the progress made in such a short time and am even more excited to think about the brighter futures that lie ahead for these young people.
Alia Alrawashdeh is an Employment Coordinator in Jordan.