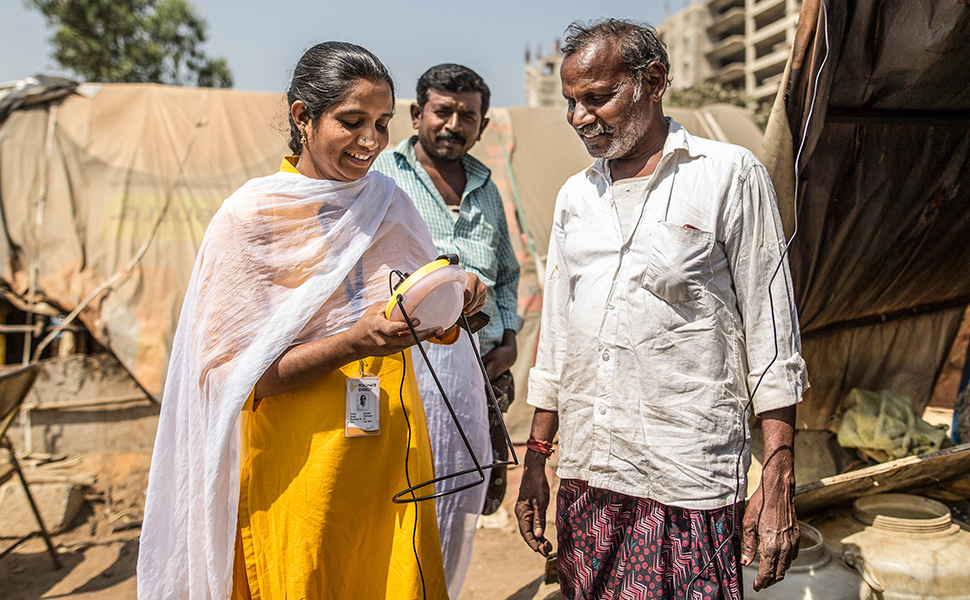 On a hot April day in the Tanzanian city of Moshi, located at the foot of Mt. Kilimanjaro, Adam Camenzuli is celebrating the arrival of 4,000 solar lighting kits, half of which have been pre-ordered. In a nation where 85 percent of people lack access to electricity, the kits will put Adam, Co-founder of KARIBU Solar Power, one step closer to his dream of making solar lighting available to rural communities across Africa who can't afford it. 
As we talk over Skype, Adam proudly waves one of the compact lamps in front of his computer screen, describing it as shaped like a hockey puck (an apt metaphor for a Canadian). The bright yellow lamps were designed by his brother and co-founder, Brian, to be versatile, durable, and affordable. Manufactured in China, the light-emitting puck can be used as a standing lamp, hung from the ceiling, or affixed to the front of a bike. The kits, which cost the equivalent of about US$40 and include two rechargeable lights, a handle, and six phone charging adapters, are sold directly to families as well as to entrepreneurs as an income-producing 'business in a box.' 
Adam is one of a number of IYF's Laureate Global Fellows whose social ventures are making solar-powered lights and other products available to low-income rural and urban populations across the globe. Their innovations are improving health through providing a cleaner, cheaper alternative to burning kerosene; enhancing education and economic activity through making light available during non-daylight hours; and combating climate change through reducing carbon emissions. 
Solarpreneurs like Adam are also expanding livelihood opportunities for youth. While KARIBU currently employs two youth who conduct grassroots outreach, Adam expects to hire up to 10 in 2016. He and the other young social entrepreneurs I spoke to leading up to Earth Day demonstrate that youth are not only pioneering leaders within today's renewable energy revolution, but job creators.  
Lighting Up Rural Uganda
In Uganda, where only one percent of the rural population has access to electricity, YouthActionNet Fellow Gerald Kimuli  has been selling solar-powered lights through his company, K&G Solar Power, since 2012.
"I had a social calling and saw a business potential," Gerald tells me from his cell phone as his workday is ending in Kampala. Through K&G, he seeks to improve the quality of life of rural farm families, while combating climate change. 
K&G distinguishes itself from the competition through making solar lights affordable—and credit accessible—to low-income clients struggling to survive on US$1 to $2 a day. K&G's partners include micro-finance institutions like Vision Fund and Opportunity Bank that offer loans at rates of roughly three percent, compared to larger banks that charge six percent or higher. 
His strategy is working. "We're growing tremendously and the market potential is high," says Gerald. Over four years, K&G has generated 1,500 customers. With five satellite offices, the company now employs 30 skilled and semi-skilled workers, most of them youth. For Gerald, this is just the beginning. Over the next five years, he has plans to reach a million customers. 
Tackling Energy Poverty in India
Curious to compare these experiences to those of one of our fellows working in Asia, I reach out to Emma Colenbrander, Co-founder and Chief Sales Officer of Pollinate Energy, another social enterprise. In India, where a quarter of the population lives without electricity, Pollinate works to improve the lives of the urban poor through providing access to sustainable products. 
"India has seen a massive increase in local and international investment in renewable energy, with lots of social enterprises popping up," Emma tells me from Pollinate's office in Bangalore. While the majority of solar initiatives targeting low-income populations concentrate on rural areas, Pollinate focuses on urban slum dwellers. "No one wanted to work with this market," says Emma. "The risk of investing in a poor, transient population was simply too great."
Pollinate's solution is to recruit micro-entrepreneurs, or pollinators, who sell sustainable products like solar lamps and green cook stoves in slum areas. The company now engages 30 pollinators most of whom are under the age of 30. The pollinators receive training along with a 'business in a bag,' which includes a smart phone to manage transactions and collect data, and the products themselves. Central to a pollinator's role is building trust within the community. A typical customer is a family living in a tent, which purchases products with the help of a five-week payment plan. 
Over four years, Pollinate has installed more than 13,400 solar systems in 1,539 communities, reaching 61,760 people. What's more, it has resulted in a reduction of more than three million kilograms, or nearly 7 million pounds, of CO2 emissions. 
Pollinate is also poised for substantial growth, with plans to be in 20 cities, one of these outside India, in five years. Making sure its pollinators grow with the company is equally important, says Emma. 
With Adam, Gerald, and Emma all confident of their ability to substantially scale their enterprises in the years ahead, I have at least three reasons on this Earth Day to feel brighter about the future.