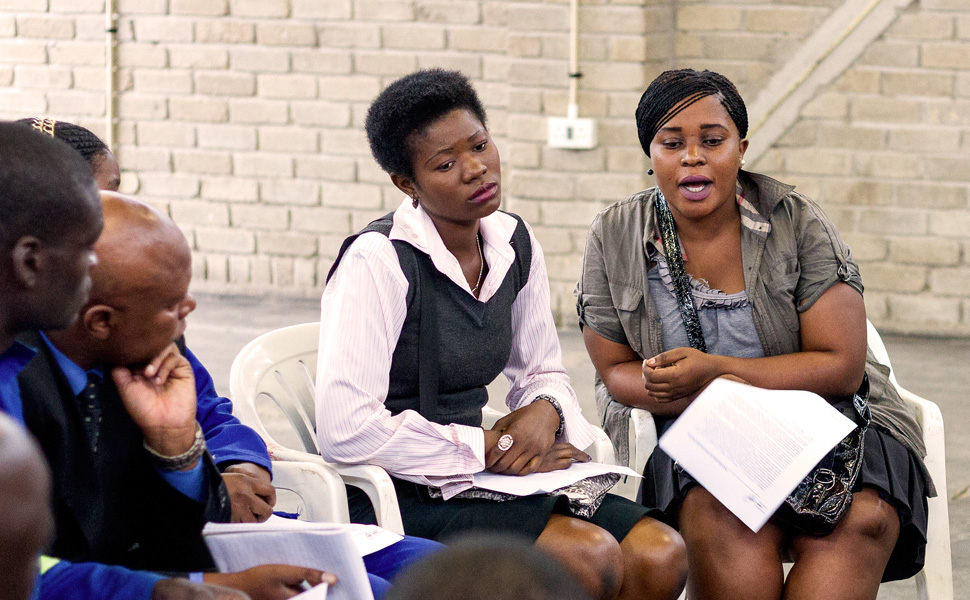 Young people are at the heart of IYF initiatives, a point made powerfully clear during a recent visit to Zimbabwe by IYF President and CEO Bill Reese. It was my first time meeting Bill, who, despite a packed itinerary, placed a priority on meeting and interacting with youth who have benefited from IYF's work here.
On his first day in Harare, Bill dined with me and two young social entrepreneurs who have participated in IYF's YouthActionNet® initiative. Jack Mukulu started the Family-in-Need Trust of Zimbabwe, which economically empowers youth and women through livelihood development and improved access to microfinance. Tichakunda Majena launched a social enterprise, Shuvai Africa, that promotes economic success through services that include financial literacy education in marginalized comunities. During our lively dinner conversation, I was struck by the transformational impact that YouthActionNet's leadership training and network-building opportunities had on these young entrepreneurs.
Bill next visited IYF partner Junior Achievement Zimbabwe (JAZ), where he spoke with young people who had benefitted from training and internships supported through another IYF initiative, Zimbabwe:Works (Z:W). Launched in 2012—and recently expanded with funding from USAID, DFID, and the Embassy of Sweden (Sida)—Z:W is a comprehensive, holistic program providing technical, vocational, and entrepreneurship skills training to thousands of young people.
Talent Tapera, a Z:W participant featured in a recent IYF video, "Telling a New Story of Zimbabwe's Youth," took Bill through his employment journey. He emphasized how the Passport to Success® life skills training he received helped him secure a position at a national NGO. Another participant, Munyaradzi Nyamaropa, shared how he landed a job as an event planner with a major funeral company, crediting the life skills training he received through JAZ with helping him to chart a course to successful employment.
Next we visited Young Africa (YA), an IYF technical vocational training partner in Chitungwiza, just south of Harare. Bill toured YA's campus, where he observed female cosmetology students engaging with clients and listened to a young student receiving on-the-job training at a car repair shop. The student, Monalisa Huni, shared the barriers she overcame to pursue her dream of working in car maintenance. Bill learned about YA's innovative approaches to breaking gender barriers through the promotion of young women's participation in male-dominated trades—efforts that will continue through the second phase of Zimbabwe:Works as IYF and its partners enhance the economic prospects of 22,500 youth over the next three years.
Monalisa, Talent, and Tichakunda are just a few of the young people achieving success in Zimbabwe. I know their hard work will continue to create new opportunities for them and their communities, and IYF celebrates their success.
Kainos Muswinu is Internships and Private Sector Engagement Specialist.