What Communities in Kazakhstan Can Learn from Robot Battles
Read All Posts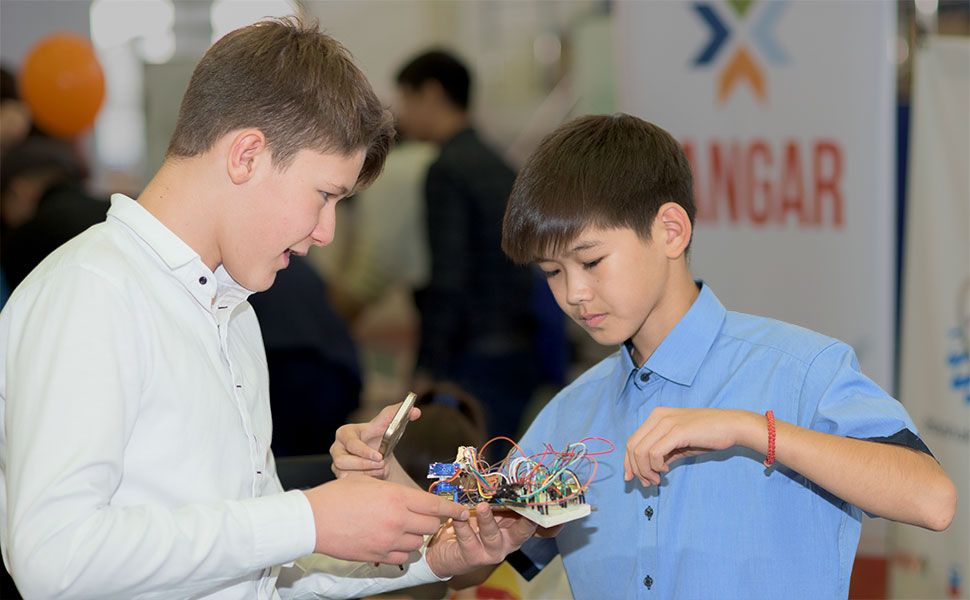 Children learned about 3D modeling. Youth built and dueled custom robots and reimagined everyday objects for unique applications. Adults learned how to support science, technology, engineering, and math (STEM) education in their community. Gathered in the sports center of Atyrau University for English & STEM Fest, hundreds of members of this community in western Kazakhstan had fun exchanging ideas, creating, and learning new skills. 
This unique, interactive learning opportunity was made possible through the combined efforts of the partners behind the Zangar initiative—IYF, Chevron, and the Atyrau regional government—and the British Council and hosts Atyrau University. 
Zangar offers integrated training in life skills and STEM in order to empower youth in Atyrau with the skills and education they need to succeed in a 21st century economy. One of the initiative's primary goals is to create a local STEM ecosystem that gives youth access to relevant learning and exploration. Success requires dynamic collaborations among schools, after school programs, and STEM institutions such as science centers, higher education institutes, and STEM professional associations. This festival marked one such important collaboration, and it gave participants of all ages an opportunity to learn about STEM and local resources available to them. 
During the English & STEM Fest, Zangar youth participants led the charge and got hands on to share their knowledge, sparked by involvement in the Zangar initiative. Older youth worked with younger children to introduce them to STEM skills and disciplines such as robotics and 3D modeling. 
Youth were excited to witness robot battles and have their own chance to build these machines. They learned about robotics and that STEM education can be fun and broadly beneficial. One young woman commented, "When we see impressive technology like these robots, we want to create it. We also understand that the programming skills that you need to build robots can be useful regardless of our chosen profession."
Parents were also pleased to see so much interest in STEM from their young children. "I'm happy to see today's festival reaching kids from a young age, not just when they become older. My son enjoyed activities in programming, 3D modeling, and engineering," said the father of an 8-year-old boy.
The inspiration and excitement created by the English & STEM Fest mirrors the Atyrau regional government's aspirations for a STEM ecosystem that advances the country. Zhasulan Bisembiyev, Head of the Department for Youth Policy for the Atyrau Region, says, "There is a great demand for STEM programs in our society. It is very important to Kazakhstan's development, due to its connection to economic and technological advancement. We hope that the youth here today will be successful scientists, entrepreneurs, and managers who will raise the country to new heights in the future."
Tolkyn Omarova is IYF's Program Manager in Kazakhstan.