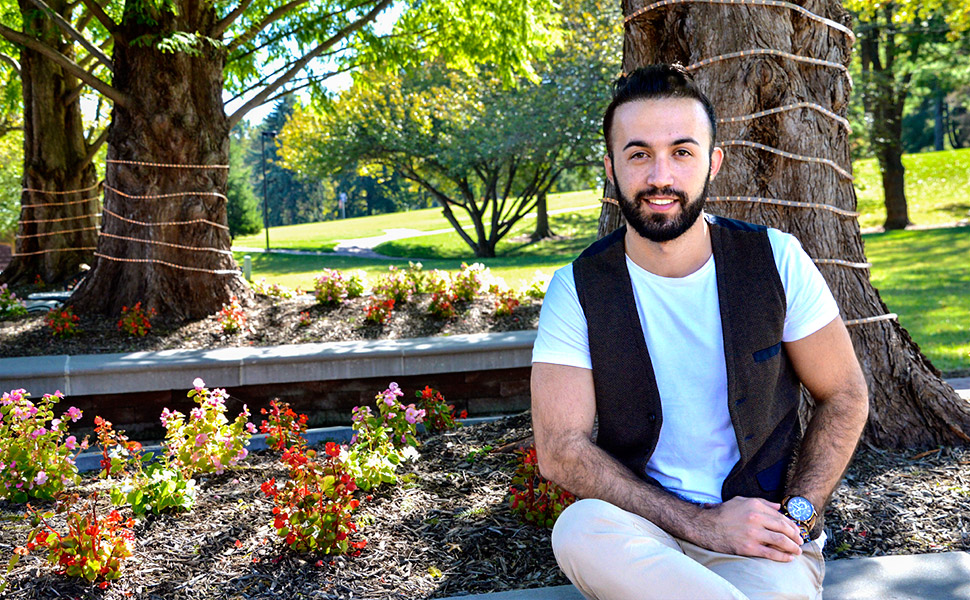 Ayaz arrived in the lobby of our DC retreat center with a grin on his face and tired eyes telling of the 28 hours that had passed since he headed to the airport from his home in Sulaimanyah, Iraq.
I breathed a sigh of relief.
Ayaz was selected as a 2015 Laureate Global Fellow for his work as founder of Asuda's Gender-based Violence Prevention and Women's Protection Project. From a network of 1,300+ young change makers supported by IYF's YouthActionNet® initiative over the past 15 years, Ayaz was the first from Iraq. I quickly learned how challenging it would be for him to take part in a critical component of the fellowship experience—the leadership development retreat. With visa appointments booked through January at the nearest US embassy, and a journey to the larger embassy in Baghdad made impassable by ISIS, both Ayaz and I began to doubt if he'd be able to take part in this profound opportunity he'd work so hard to earn.
Throughout the summer Ayaz and I exchanged emails—we brainstormed, fact-checked, and sent messages of encouragement and defeat. Eventually, a trip to Lebanon and a lot of patience and dedication from Ayaz landed a US visa in his passport and a ticket to DC in his name. But as a man working in women's empowerment in Iraq, Ayaz is no stranger to challenges. "I have lived in Iraq for 12 years, but I only have two friends," he explained over dinner that first night. "My older sister works in women's empowerment, and she is my idol. In Iraq, a woman working in women's empowerment is OK, but for a man it's simply not acceptable."
For Ayaz, being a feminist is simple. "If women don't have the same rights, society won't advance as quickly," he says. "Today we are losing half of our human resources." For believing that women should have the same opportunities as men, Ayaz is ostracized by his community and his motives are questioned. He has experienced physical violence, and social isolation is a daily reality.
But his journey is also full of beauty. He describes Syrian refugees, internally displaced Iraqis, Kurds, and Yazidis—all huddled together in the women's community center—realizing for the first time how similar they really are. Searching for shared words of understanding, they motion their hands demonstratively, creating a language of their own.
While Ayaz draws his strength from the women he serves, he envisions a world where gender issues are a shared responsibility. "I don't want to be the only man working for gender equality," he shares. "I want to engage with men and boys."
Through community forums on gender equality, Ayaz engages both men and women, including government and religious leaders. When listening to the afternoon prayers broadcast throughout town, Ayaz heard the local imam deliver a special message on the importance of women's empowerment. It was then that Ayaz knew that the precarious path he had chosen was the right one.
Today I asked Ayaz whether his time here has been worth the challenging days, weeks, and months he spent pursuing a visa. "If I had to go through it again, I absolutely would," he says. "Here, I don't feel alone. Being with 19 young people who also believe they can change the world gives me a sense of support and a push to continue."
By providing a safe space where women can step beyond their comfort zones, share challenges, and acquire the skills to address them, Ayaz helps them realize that they are not alone. This week, it was Ayaz's turn to feel part of something greater: a border-defying, stereotype-shattering movement of young people disrupting systems of injustice around the world.
Lisa Jones is a Program Manager for YouthActionNet.