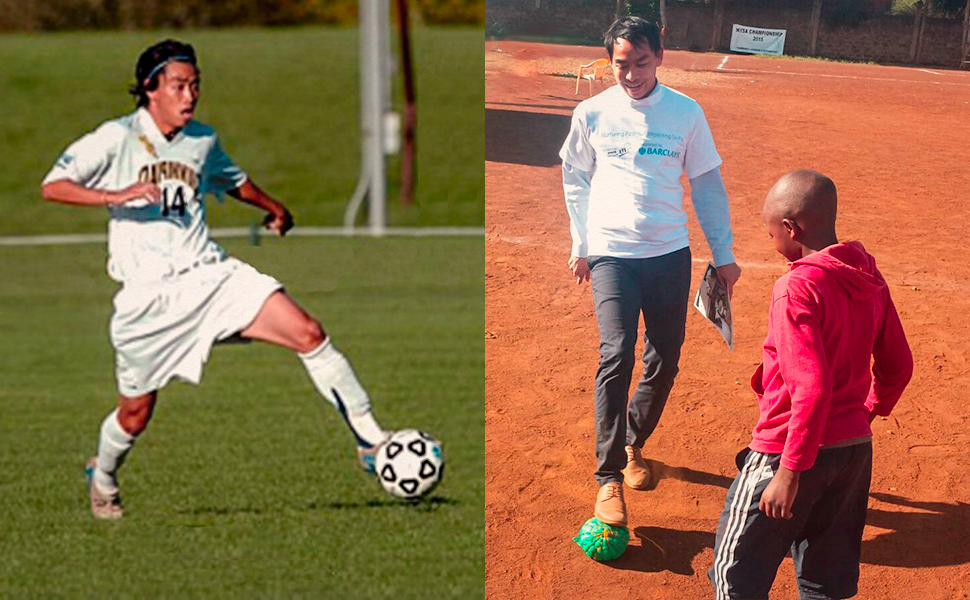 When I was growing up a resettled refugee in New Hampshire—having emigrated from Vietnam—life wasn't always easy, things didn't always make sense, and ends didn't always meet. I didn't have much, but I always had soccer. In this way, I can relate to the disadvantaged young men and women from Mathare who are participating in our Sport for Kenyan Youth Employment (SKYE) initiative.
The pitch was where I felt most comfortable; it's a place where you're not judged by the number of dollars in your pocket, rather by the number of goals you score. I lived and breathed "the beautiful game," playing every moment I could. Nothing else mattered, and the last thing on my mind was growing up and pursuing a "real job," as is the mindset and attitude of many young athletes.
My life's plan was simple:
Easy, right? I'd be rich and famous by the age of 25.
Well, it turned out I wasn't the second coming of Pelé, not even Alexi Lalas. I wasn't good enough to check off a single item on my list. But playing soccer wasn't all for naught. I credit my experience on the soccer field with preparing me for life and the world of work, equipping me with many of the skills required of today's workforce.
As playing soccer taught me how to strike a ball with power and precision, it also taught me how to effectively work within a team, to communicate respectfully, and to make decisions under pressure. Playing soccer also taught me to be resilient: to be able to work through hardships, rebound from failures, and to learn from my mistakes.
Like me, most athletes won't go on to play professionally, let alone lead their countries to World Cup glory, but they can leverage the skills they learned on the pitch into a meaningful career. The competencies gained through playing soccer—leadership, discipline, communication, teamwork, and responsibility chief among them—mirror the skills that employers seek.
To start, young people just need to identify opportunities to apply the skills in the new, seemingly dissimilar job setting. On the field, in the classroom, and at job training sites, SKYE participants will learn how to translate skills from the soccer field to the workplace. They'll also acquire in-demand technical skills through on-site training in a construction sector trade and will be placed in a position after certification.
Through SKYE, IYF, funder Barclays, and local partners Mathare Youth Sports Association and Arc Skills will leverage the power of soccer to engage young people where they're most comfortable—the pitch—to improve their employability prospects. When young men and women graduate from SKYE, teammates will become colleagues, and training will result in real jobs.
Truong Nguyen is Manager, Partnership Development.