From Refugee to School Drop-Out to Social Entrepreneur in Jordan
Read All Posts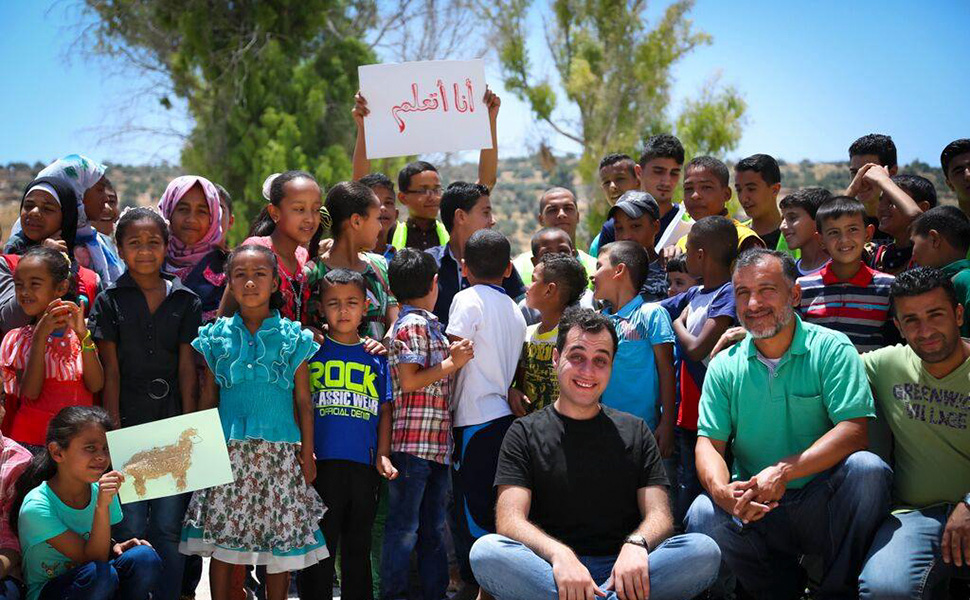 This blog post is part of a series that explores the role of IYF's YouthActionNet® fellows in advancing the UN's Sustainable Development Goals (SDGs).
Each week, hundreds of young refugees living in isolated camps halfway between Amman, Jordan, and the Syrian border head to the center of their communities for what they know will be a safe space filled with learning, exchange, and connection—a place where they can disconnect from everyday worries.
These weekly gatherings hosted in eight different communities lie at the heart of youth-led social venture I Learn, founded by 28-year-old 2016 Laureate Global Fellow Saddam Sayyaleh. Saddam and his team are working to address UN Sustainable Development Goal #10, to reduce inequalities.
For most of Saddam's life, his focus was not on leading an award-winning nonprofit organization—he was consumed by the same struggles and worries that children living in Jordan's refugee camps still face today.
"I grew up in a Palestinian refugee camp in the north of Jordan," says Saddam. "When I was six years old, I started school, and that's when I found out that I'm an orphan."
Saddam faced challenges common in marginalized refugee communities, including, as he puts it, "violence, abuse, and lack of spaces and opportunities." As a young teen, he dropped out of school, where he was often bullied.
After a chance encounter led him on an unlikely journey to work for an NGO serving orphans in India, it wasn't long before Saddam set his sights back on the communities where he grew up.
"I'm passionate about bridging the gap between the people with resources and the children and youth who are left behind," says Saddam.
Through I Learn, Saddam creates what he calls knowledge spaces for vulnerable youth and adults to develop themselves through academic and psychosocial support, legal education, cultural activities, and life skills training. Special attention is focused on creating an environment that promotes gender equality, self-worth, and personal agency, with the goal of setting participants on a path to improved academic and financial outcomes.
The program relies heavily on the contributions of university student volunteers looking to develop their skills and gain work experience. The students, along with local professionals, mentor and train low-income children at risk of leaving school and adolescent school dropouts looking to continue their education.
Because of his own lived experience as a refugee, Saddam is able to design programs with empathy. He has centered the I Learn model on the needs and perspectives of those he serves. For example, Saddam believes that many well-intentioned development efforts in refugee camps fail, because they bring in outsiders for one or two days, who do more harm than good as they "tour" the camps and disrupt the dignity and daily life of those who live there.
In contrast, I Learn volunteers must commit to long-term engagements that allow for deep connection, knowledge exchange, and relationship-building with people they never would have met in their everyday lives.
"We have more than 400 volunteers leading activities at our knowledge hubs each week," shares Saddam. "Eighty percent have been coming for over two years."
To date, I Learn has reached over 1,000 individuals with its support and services, and Saddam is more energized than ever to keep going.
"My vision is to see I Learn replicated in many areas in Jordan, but not just in Jordan" says Saddam. "This is a model that can replicated anywhere there is a need for it."
With 21.3 million refugees worldwide and growing, the stakes are high for the success of youth-led ventures like Saddam's, which are developing grassroots solutions not only for—but by—those most affected by this global crisis.
Lisa Jones is Program Manager, YouthActionNet.