Reaching Global Impact Goals Requires Strong Local Partnerships
Read All Posts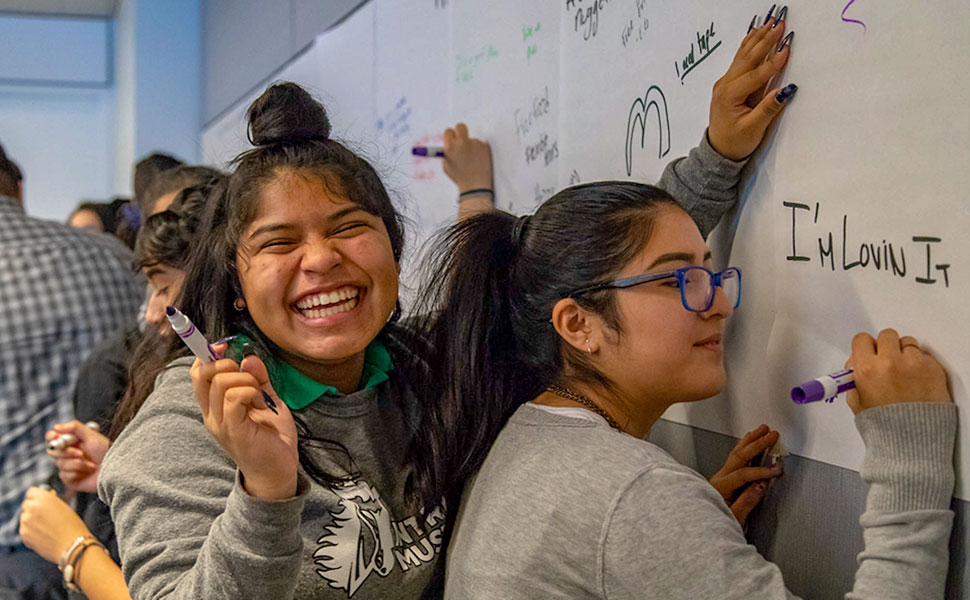 At IYF, much of the work we do is supported by strong partnerships with corporations like McDonald's, with whom we launched a program in Chicago known as the Youth Opportunity pre-employment initiative. Our global goal is to reduce barriers to employment for two million young people by 2025 through pre-employment job readiness training, employment opportunities, and workplace development.
Equally important are partnerships with local, community-based organizations who know the young people and the labor landscape in their communities better than anyone else. In Chicago, one of our closest allies is Phalanx Family Services. They provide a host of invaluable services for young people, including work readiness and life skills training using a specialized version of our Passport to Success® (PTS) curriculum. Below, two longtime Phalanx team members involved with the Youth Opportunity initiative share success stories and insights for engaging with young people on their own terms.
Who are the young people participating in the Youth Opportunity pre-employment initiative, and how do they hear about it?
Mike Jenkins, Program Coordinator & PTS Trainer
Most of our kids are coming from high school, so they come in from five to six every day after school. They come from across the city. Many of them learn about [the program] through word of mouth, through friends who've gone through and tell them that it's a good deal. At Phalanx, we have other programs, and sometimes we will recruit youth out of those programs for the Youth Opportunity initiative.
As a Passport to Success (PTS) trainer, what do you focus on to help prepare young people for success?
Eboney Vance-Usher, Lead Case Manager & PTS Trainer
We tackle habits that make it hard for young people to find and keep jobs. We want to make sure that they are the best versions of themselves before they go into an interview with an employer. As a trainer, I want to make sure they're having fun and staying engaged, so I incorporate exciting activities that relate to their own experiences.
What are your favorite activities to do with the young people?
MJ: I try to do activities that are interactive. I took a basketball and wrote some emotion words on it like anger, love, happiness, etc. I throw the ball to them and whichever emotion their thumb lands on, they have to talk about that emotion and how they handle it. They like the feedback they get.
EVU: I love the ball exercise! I also do an exercise that uses music to help them think about themselves in a positive way. For example, I play the song "This is Why I'm Hot," and then ask the young people to explain why they're amazing. They say things like, "I take care of my grandmother," "I help my little brother with his homework," or "I just graduated from high school." It's uplifting.
What kinds of success have you seen with the Youth Opportunity pre-employment initiative during the pilot year in Chicago?
MJ: At first, a lot of our youth are lacking soft skills—things like making eye contact, shaking hands, showing up on time, and knowing how to manage conflict. These skills make a big difference. We had a young man working 20 hours "paid work experience"—where we pay until the employer hires them officially. When a regional manager visited the store, the young man made such a good impression he was hired on the spot. I tell our youth—there's a lot of competition, and these skills will set you apart. The Passport to Success curriculum works and knowing that I have a hand in helping young people to go out and succeed—I love that about my job.
EVU: When they come in, they've got a hunger for employment. Through pre-employment training, they develop the discipline they need to obtain it. They realize how negative habits can interfere with getting a job. They become more serious about getting a job, better equipped, more willing to learn and engage, and more comfortable in their own skin. The more confident they become, the better able they are to receive the jobs they desire. We had a hiring fair recently and over 50 percent of our young people were hired for employment at McDonald's, including many of our in-school youth who sometimes miss out on these kinds of opportunities because they're in school. Being able to interview and having the chance to be hired on the spot restored their faith in themselves, and their ability to get employment. It was a great success.
Learn more about the Youth Opportunity pre-employment initiative and the partnership between IYF and McDonald's.