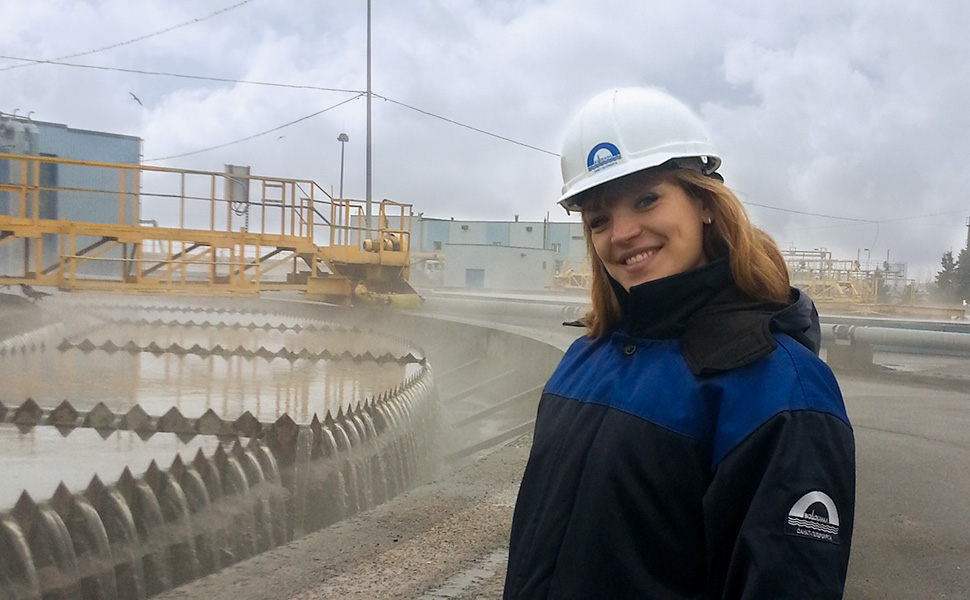 The United Nations recently released The World's Women 2015, a statistics-based publication with a chapter dedicated to women's education. As summarized in this infographic, women are "clearly underrepresented in fields related to science, engineering, manufacturing, and construction." This post was written by a young woman who participated in the first phase of our EquipYouth initiative, through which we've been working to connect young people around the world with critical technical and life skills training.
My name is Ekaterina, I'm from Russia, and I've always dreamed of getting a technical education. When I started to look for the right training facility, I visited numerous open houses. Finally I chose Professional College № 89 (later renamed "Water Resources College"). I chose to train to be an operator of processing pumps and compressors.
At the beginning, I didn't know much about this profession, and I thought it was just for men. But when our studies started, there were more young women than young men in our group. As I learned more, I started to understand how interesting this job is and how relevant it is for St. Petersburg.
I was taught by very skilled teachers, who conducted classes through EquipYouth. We had specialized computer classes, where we made calculations and mockups, and we visited a pumping plant that is equipped with the latest technology and supports life-sustaining activities in St. Petersburg.
I also represented my college in professional skills competitions in the field of water supply and disposal, and I won various prizes thanks to the technical skills I developed during the EquipYouth lessons. At the end of the academic year we were sent for hands-on training as interns at the water supply and waste water treatment plant. It was my first experience working as a team member, and I had a chance to apply other skills I developed thanks to EquipYouth.
After the internship, I graduated with honors and I was offered a job as the 3rd class pump station operator at the water supply and waste water treatment plant. Then, I entered the State Architecture and Construction University, studying to become a Water Supply and Water Disposal Engineer. I have participated in additional skill competitions, including winning first prize for "The Best Pump Equipment Operator."
Everything I have reached so far would not have been impossible without the skills and knowledge that I developed participating in EquipYouth. And I am not going to stop where I am now.