Problem-Solving Entrepreneur Employs Fellow Youth in Zimbabwe
Read All Posts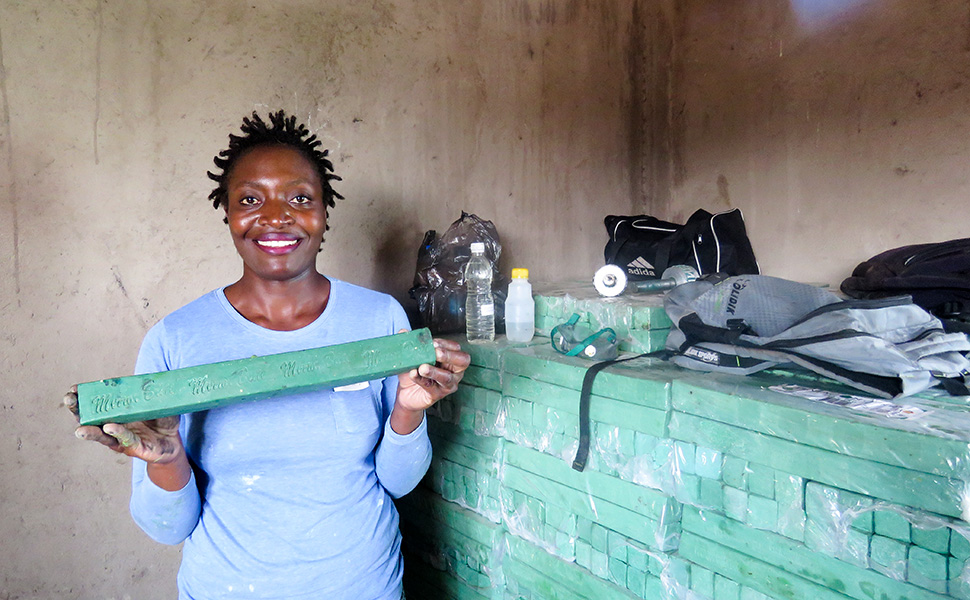 Rudo Mazhandu is a mother, chemist, business owner, and employer in Zimbabwe. Like most entrepreneurs, she has experienced setbacks related to funding and job security; unlike many others, she has persevered in a country that is literally running out of money. How does a young self-starter succeed in a cashless economy? The formula includes optimism, the right training, and continually learning as you go.
"I believe it is possible. I soldier on," says Rudo, whose company, Digiquip Investments, makes and sells soaps and detergents outside the capital city of Harare. After several years off and on as an entrepreneur, Rudo, 31, trained with the Zimbabwe:Works (Z:W) initiative in 2016. This partnership with the UK Department for International Development (DFID), USAID, the Embassy of Sweden, and Zimbabwe's Ministry of Small and Medium Enterprises and Cooperative Development, offers job readiness training and provides support to entrepreneurs like Rudo, Fortune, and Clever.
While informal employment dominates Zimbabwe's economy, college-educated Rudo has been running a formally registered business full-time since 2014. "I chose to start my business because I couldn't find employment," Rudo says. "I started making detergents for my kitchen, for my bathroom. I started supplying the people in my vicinity. With the demand that followed, I saw the need to scale up, and with the help of IYF I was able to move to a better location where I began operating in a real businesses environment."
During my conversation with Rudo in DC in December, when she was in town for an event, she highlighted three keys ways the Z:W training has supported her and her business as they've evolved:
Tracking income and expenses: "The key thing I took out of it was the need to do recordkeeping," Rudo says. "I had been taking it for granted."
Life skills training: After participating in Passport to Success

®

training, she explains that she is more confident in herself and what she's selling. "Without being able to confidently make your case, you don't have any business," Rudo says.
Hiring employees: Through Z:W, Rudo says she learned how to build an effective team. "I realized I couldn't do it all myself. The training gave me the tools to manage my own team well," she says.
In addition to being a necessity, entrepreneurship also suits Rudo's personality—even if her education prepared her for a different track. With a college degree in chemistry, Rudo says that science education in Zimbabwe, "equips you to go more into academics than industry. Most of my peers are teaching or have gone on to do masters to become lecturers … I enjoy solving problems as well as imparting knowledge—outside the confines of the classroom." Rudo says she hopes to continue with postgraduate studies to keep building her business capabilities.
Rudo also takes pride in employing her peers, and she is visibly pained when she talks about deciding, for the health of her business, to change from having regular employees to paying workers on an as-needed basis. "On peak days, I can have 13 casual workers or more; on days that are not so busy, we can have two," she says.
Looking ahead, Rudo is interested in seeing how she can involve more young people in her business, specifically in the supply chain of plant oils required for making her soaps. She continues to navigate challenges working in a volumes business, where she feels she can never quite produce as much as she needs to, and in tracking down wholesalers who owe her money. She expresses a wish for the kind of cushioning an incubation model could provide, especially in terms of understanding and navigating financial risk.
As for her country's cashless economy, banks have run out of paper money and individuals hoard it or take it out of the country. In response to an increasing reliance on debit cards, Rudo says,  "Knowing how people in Zimbabwe are generally quick to reject initiatives, I saw an opportunity by accepting the cashless initiative. Just before I came here [to DC], I applied to get a point of sale machine so I can do swiping. We can get a lot of sales from the government, because they can use their bank cards. Soap is one of the things they will buy. I also accept mobile money, bank transfers, cash, and government bond notes."