Preparing University Students in Palestine for the Labor Market
Read All Posts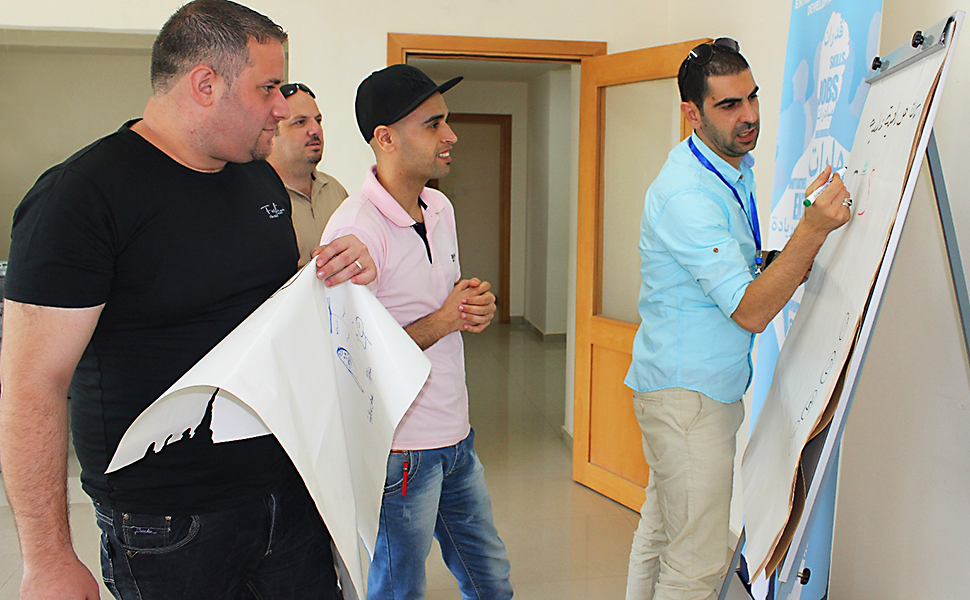 Everything we do at IYF aims to support youth on the path to success in work and life, and educational institutions like the Arab American University in Jenin (AAUJ), in Palestine, are one key type of partner in achieving this mission. Voice of Palestine radio recently spoke with Dr. Nizam Diab, AAUJ's Vice President of Community Affairs, about the school's cooperation with IYF. The interview, conducted in Arabic, touched on the significance of such partnerships, a critical gap between student needs and what the university provides, and various IYF trainings that are preparing students for success after graduation.
Dr. Diab described IYF as being "at the forefront" of the AAUJ's partnerships and Dr. Mohammad AlMbaid, IYF Country Director for Palestine, as a friend of the university. When asked about the value of such a partnership, Diab explained the ways IYF trainings augment a university education.
"Palestinian universities provide adequate academic and theoretical knowledge, but they lack the ability to prepare students for the labor market. We've notice that many students who excelled at their academics are unable to find a job," he said. "These programs qualify students and prepare them for the labor market locally, regionally or internationally, especially during times of high unemployment—which affects all of Palestine, particularly university graduates."
These trainings include Build Your Business (BYB) and Passport to Success® (PTS). While BYB uses blended learning to enable youth to develop their entrepreneurial skillset, PTS equips participants with the life skills such as teamwork and reliability that will help them excel in any setting, professional or personal.
Dr. Diab told Voice of Palestine that with IYF support they have conducted 10 rounds of PTS training benefiting 300 students. "PTS is a wonderful initiative that helps students differentiate between academic work/studies and the labor market by providing them with excellent life skills, leadership, and communications skills, among others," he said.
With IYF's ever-present, ultimate goal of sustainability, our model includes preparing local educators and community members to become trainers. Through the Youth Entrepreneurship Development (YED) initiative, funded by the USAID West Bank and Gaza Mission, IYF has trained more than a dozen AAUJ teachers and staff to be certified to train students and alumni in career guidance, life skills, employability, and entrepreneurship.
"We always ask the bold question 'how long will this last?'" said Dr. Diab, continuing, "Dr. AlMbaid always responds with: 'We want to support the Palestinian youth, and we want to put them on the launching pad, so that even if the support stops and MOUs and agreements with organizations end, the Palestinian youth would be capable taking off. In addition, we want to ensure that universities are able of continuing such programs.'"