Passion, Purpose, and Penguins: Wisdom from the C-Suite on International Women's Day
Read All Posts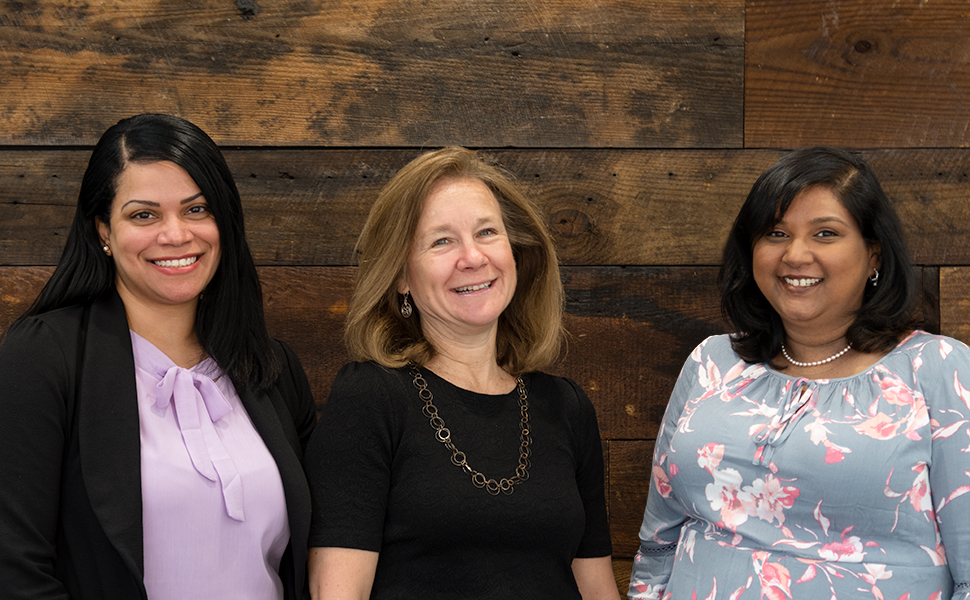 It's estimated that women comprise close to 75 percent of the nonprofit workforce. That's a fact worth celebrating…as long as we don't lose sight of the gender gap that still persists in the leadership ranks. The unfortunate truth is, only 45 percent of nonprofit CEOs are women, and that figure shrinks as the operating budget of the nonprofit grows.
At IYF, inclusion is a core value, one we try to honor in all aspects of our work—including hiring. Of course, while we're always pushing ourselves to improve, we're also proud that many leadership roles in our organization—including several titles that start with "C"—are held by women. On International Women's Day 2019, IYF's CFO, Chief of Staff, and CEO share their professional and personal insights.  
Reflecting on your career, which three words characterize your professional journey, and why?

Yvonna Stevens, CFO & EVP of Finance, Administration, and IT:
Agility because change is the only constant and to persevere, we need to anticipate change and pivot early, often, and forward. Connection because my mother taught me that this is the single most important talent to develop for greater mindfulness—no matter our differences on the surface, we can find a deeply human connection which allows us to work together for positive and greater impact. Purpose because I believe if we have a 'why,' we can tolerate any 'how.'
Christina Buggappa, Chief of Staff:
Steady because steadily delivering on responsibilities and being true to who you are always leads to the next opportunity for growth and learning—even when you may not be looking for it. Unconventional because in my experience a career track is not always linear, but as long as every opportunity gives you a chance to learn, reflect, and stretch, it's positive movement. Relationships because every relationship is an opportunity to learn something about who you want to be, and how you want to work. What's special about the leadership team at IYF is not only that many of the members are women—though that's something to celebrate, too—but that we all function so well together. I think IYF's women leaders share a rapport, in part, because we're women, but it also has to do with being passionate about a shared purpose. And that's true of everyone I'm fortunate to work with at IYF, both women and men.   

Susan Reichle, President & CEO:
Passion because you spend a lot of time at work, and you are going to have some difficult days, but if you are passionate about what you do then you will continue to forge ahead even when the ground beneath you feels a bit unsteady. People because we do not accomplish anything alone. I have been fortunate to work and travel with so many incredible people doing amazing things all over the world. Learning because we grow professionally and personally every day if we create space to learn, particularly learning from failure.
What are some strategies you've learned that can help women advance professionally in their organizations?
YS: Identify someone who is willing to coach, mentor, and provide you a seat at the table so you can gain experience. Once you have that seat, remain authentic and pay it forward. Look out for women who are trying to grow and improve, and could benefit from your sponsorship and support. Help them create connections and bring them to the table with you. With a seat at the table, you can gain experience and also share your own ideas, perspectives, and new approaches.
CB: Authenticity goes a long way, so let people see who you are, even if it's a silly side or something you want to improve about yourself. Self-reflection is just as important as the feedback that you get from others and demonstrating your ability to apply that self-reflection or feedback, no matter how difficult, is equally important. Lastly, one of the most important lessons I learned early on in my career is that you have 15 minutes to get by on your charm or reputation, and then you better get the job done.
SR: I have seen too many qualified women who are hesitant about taking the next step to advance professionally and I can relate to those doubts, so I remind them they are not alone. It's important to remember we follow in the footsteps of others who jumped into the arena, so my recommendation is to always follow your gut and be that first penguin to take the plunge. The second thing I recommend is to seek out peers and mentors. And remember, supporting women in the workforce isn't just a women's issue—it's everybody's issue if an organization is to thrive. Some of the best mentors I've had in my career have been men, so don't discount their interest or ability to support women and gender equity issues.
What assumptions about women in the workplace/in leadership positions would you like to change?
YS: There was a time when having a woman as President/CEO was crazy. Having a woman as President/CEO, plus a woman as CFO, and a woman as Chief of Staff in the same organization? Even crazier. IYF has women in key leadership positions including President/CEO, CFO, Chief of Staff, and Director of HR. As the latest Nike commercial summed it up—It's only crazy until you do it.
CB: I am keenly aware that the system works against minority women. There is sometimes a self-consciousness of how we project ourselves, and we hold ourselves back because we don't want to reflect the preconceived notions about our gender, our race, or any other aspect of who we are. It is imperative that we disrupt the system when it comes to diversity in leadership roles, and one way to do that is to address those unconscious biases head-on. 
SR: The biggest assumption I would like to change is that we have succeeded in achieving gender equity in the United States, particularly in leadership positions. According to former Federal Reserve Chair, Janet Yellen, 57 percent of women work outside the home, compared to 69 percent of men. And women earn approximately .79 cents to every dollar earned by a man. I have seen throughout my career that women hold themselves back from taking on additional leadership responsibilities because they will not be equitably compensated and the sacrifices at home are too great. We need to change the assumption that women will do the same job as a man but can be paid less. Fortunately, we are seeing the first cracks in that glass ceiling with states like California and others making it illegal to determine a person's salary based on salary history.
What words of advice would you give to the generation of women now entering the workforce?
YS: Find an organization that aligns with your purpose—your why—and is a good place to work and a good place to come from as you navigate your career journey. Don't burn bridges, for you may have to walk back over a previous bridge one day. Most importantly, believe in your awesomeness and unique talents. Exercise passion, patience, perseverance, and purpose.
CB: Be comfortable taking a seat at the table and making a contribution to the conversation. It's easy to take a seat on the perimeter and wait to be called on, or think you are only in the conversation to fill a specific role. Don't limit yourself. Raise your hand and share your input (respectfully) even if you are not invited. People will remember you when the next problem to be solved comes up and, trust me, you'll be invited to the table again.
SR: There are more opportunities for women entering the workforce than ever before so go for whatever is your passion, but don't let it determine who you are as a person. Stay true to your authentic self and what you want your life to look like. It will change over time, but the network and friendships you develop early on in your career will sustain you during the good as well as the tough times. In the end, it's all about people and the relationships we develop.