In Nigeria, Investing in Local Businesses Benefits the Community
Read All Posts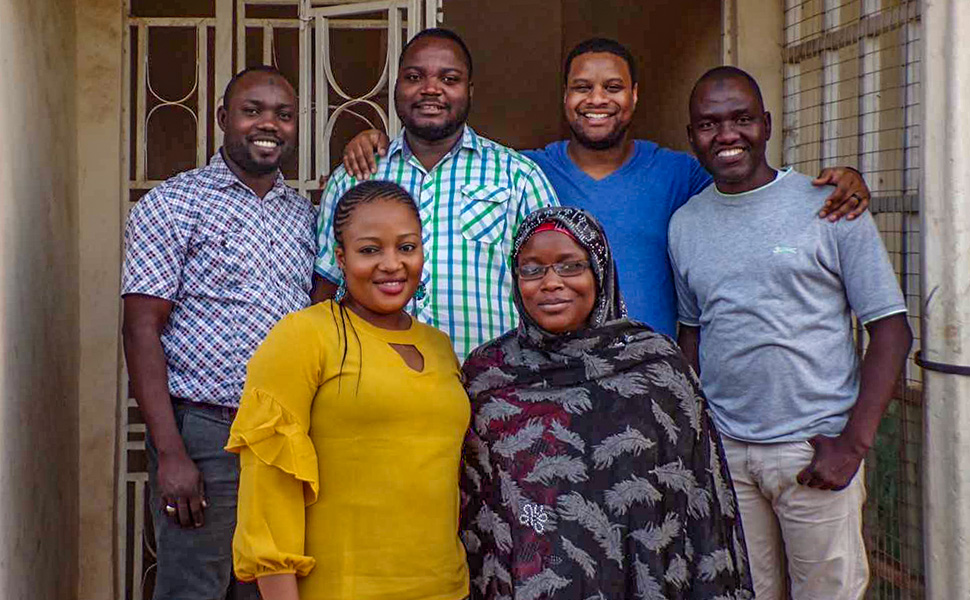 Last week, Antoine Eloi joined the Global Parliamentary Conference at the World Bank to discuss youth employment. This young leader was chosen as a YouthActionNet® Global Fellow in 2007 for Leadership Initiatives, a nonprofit he co-founded to help develop the capacities of local businesses in Bauchi, Nigeria. A graduate of American University and Thunderbird School of Global Management, Eloi is currently Strategy Support Director at Johnson & Johnson. He is still actively involved with Leadership Initiatives, sitting on the Advisory Board and visiting LI's Nigerian office yearly. Shown here in blue with the LI team in Bauchi, Eloi shares his thoughts on entrepreneurship, investing in local businesses, and the power of youth voice. 
How did Leadership Initiatives (LI) begin?
I co-founded Leadership Initiatives in 2003 with Marshall Bailly, a classmate at American University who still leads the organization today and is doing a phenomenal job. We marched up and down Massachusetts Avenue in Washington, D.C., to all the developing countries' embassies presenting our idea for a pilot program to help entrepreneurs straight out of university start businesses. We determined we could have the biggest impact in Nigeria. 
How has the organization grown and changed since 2003?   
Our idea of focusing on recent university graduates morphed as we learned more about the culture in Nigeria. We adapted the project to focus on small, local businesses that already have skin in the game. These business owners have good business ideas, but often need to develop better financial literacy skills. We spend three to four months helping them better understand their cash flow profile, where money is leaking out. We invest in them, just tipping them over the hump, so they can tap into their innate capabilities and individual agency to live out their dreams. 
What benefit did you see in adapting your plan to focus on smaller, local businesses?
Local business owners are deeply invested in their communities. They are motivated not only by making money, but by leaving behind a legacy of positive change. They hire people from the community to work in their shops, providing employment opportunities for many other people so they can better their lives, too. 
In fact, some of the business owners asked if we could provide literacy training for the disadvantaged young people who work in their shops. They said, "We'd rather get them out of the shop, and back into school." So, we built a basic literacy curriculum, and local youth come to LI offices and we help improve their basic literacy skills. This ripple effect is what my co-founder Marshall and I hoped for, and it's inspiring to see it happening. 
For you, as a 2007 YouthActionNet Fellow, what is the importance of listening to youth voice?
There are 1,700 YouthActionNet Fellows, but that's just a representation of the millions and millions of young people around the world trying to make a difference. It's important for governments to engage youth in a constructive dialogue. It's not always easy, but young women and men can show you perspectives and approaches that can be incredibly successful, especially if brought to a larger scale. 
Youth look at the world and see where hope has been given up too soon on certain issues. They recognize new ways to reach a solution and have the powerful belief that they can change the status quo. With that belief comes the energy to go the extra mile to take what's broken today and make sure that it works tomorrow. When you give young people the right platform for something that they believe in strongly, they can change things very quickly. Youth voice is power. That is so exciting.