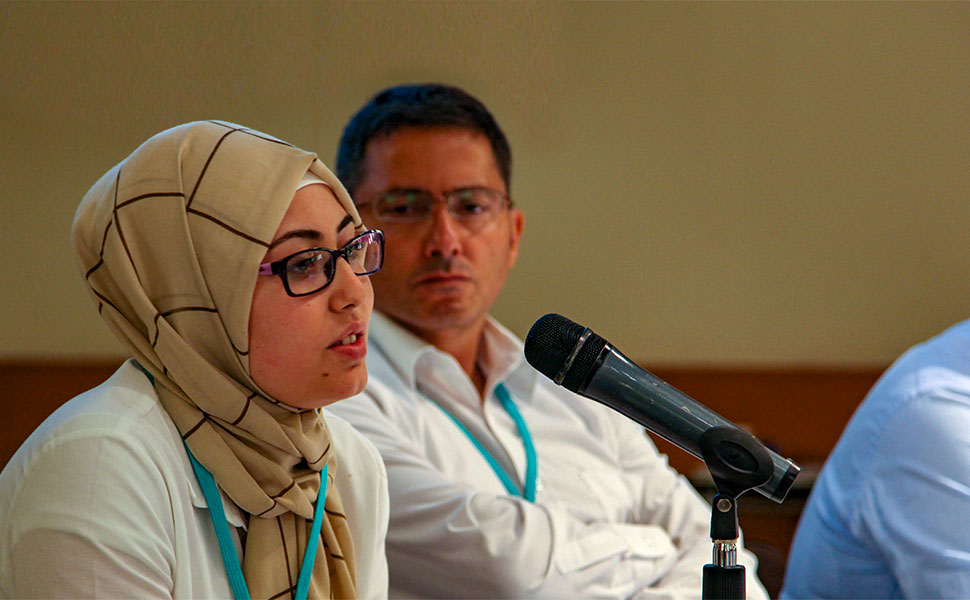 This blog post originally was a speech given at the closing event for the Syrian Refugee Employability Program (SREP) in Istanbul. Riva's words have been translated from Turkish and lightly edited for clarity. She has been in Turkey for three years, and her comments align with the findings from the SREP labor market assessment, particularly around Turkish language skills and training and reports of mistreatment.
Hello. My name is Riva Demaski. I am 23 years old, from Syria.
I grew up in Damascus and lived there until I was 20. I spent my childhood and all my beautiful memories there. By the time I was 17, the war in Syria had begun.
When the war was going, I was in high school, preparing for the university exam. It was the hardest part of the preparation process. After I passed the exam, I got the right to enter the university and graduated from the department of civil engineering. During this period, due to the war, my father and my brother emigrated to Turkey, and we lived alone with my mother. I had to start working.
My father tried to find a job in a factory, and three months later my mom and I came to Turkey. We worked in the same factory as my father. We were having a hard time because we did not know the Turkish language, and the boss was behaving badly when we did not understand what was said to us. I also wanted to learn Turkish more because people treated me badly.
I signed up for one set of language courses but couldn't complete them because they were not held at a suitable time. I then attended the Turkish courses offered by Mülteciler Derneği (Refugees Association), but because I was very busy, I had to work weekdays and study weekends. I did not lose my perseverance. As my Turkish got better, I was very happy to be able to express my thoughts and wishes and rely more on myself.
I got another job and started to have more responsibility because my Turkish had improved. We were working in groups here, and there was a group that I was responsible for. However, some of these groups did not look favorably on my being Syrian. I tried to be respectful of everyone, and after we met and spent time together, we started getting used to each other.
I took the Tömer test, the Turkish language exam for foreigners, and passed. So, it is no longer an impossible dream for me to continue to university. In fact, I am now preparing for college, and I am also an interpreter for Mülteciler Derneği. I want to be a civil engineer here by succeeding at university.
Within this process, I also had the opportunity to establish nice friendships. I have seen people help each other and approach each other without prejudice. Still, people generally think that we are in very needy situations, and they think that we are doing something just to get help. Actually, we are just trying to keep our lives, trying to stand on our own feet.
Life is sometimes very difficult: sometimes it teaches you, sometimes it introduces you to valuable people and they always stand next to you so that you can go on. But what is important and what I learned is that you are so strong—that no matter how hard your life is, never give up.