In Mozambique, A Former Basketball Star Takes Aim at Youth Unemployment
Read All Posts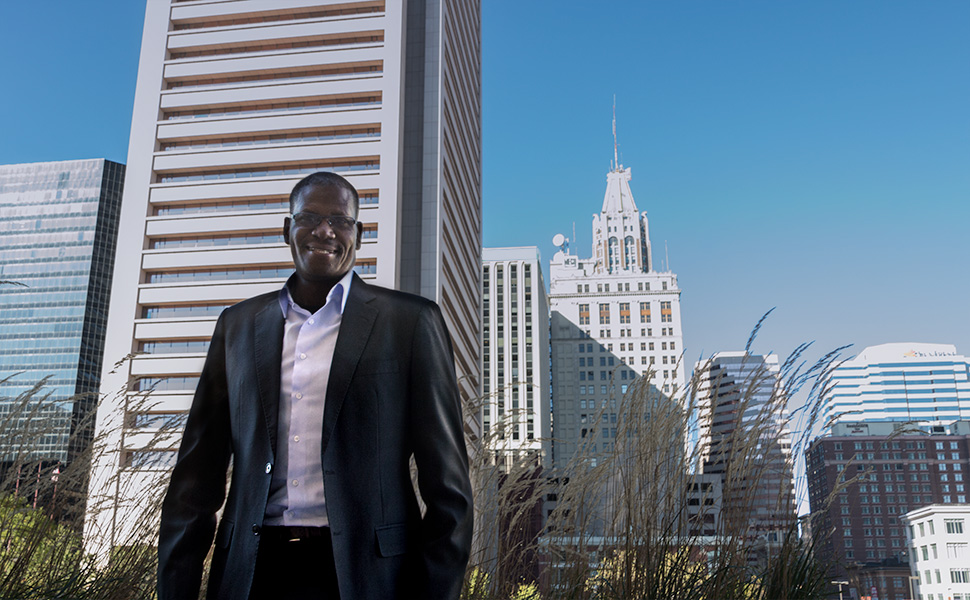 When Ilídio Caifaz walks into a room, people notice. At 6 feet 7 inches tall, the former Mozambican national basketball star grew up knowing that with his uncommon height came responsibility. "From a young age, I was visible," says Caifaz, who now is IYF's Country Director in Mozambique. "With this visibility came a responsibility to be a role model and to embrace certain values."
With a professional career spanning roles as a high school teacher, sports figure, and leader in the public and private spheres, Caifaz has gained a unique perspective on the nation's youth and how to best meet their needs.
Building on these diverse experiences, he's now overseeing an ambitious effort to help more than 8,000 economically disadvantaged Mozambican youth find jobs or start businesses over the next five years. At the same time, he and his team seek to bring about long-term systemic changes—aligning the nation's technical and vocational education and training (TVET) offerings with labor market needs. They're doing all this through Via: Pathways to Work, an initiative of IYF and The MasterCard Foundation aimed at increasing economic opportunities for youth in Mozambique and neighboring Tanzania.
If this sounds like a tall order, it is; yet Caifaz is no stranger to challenges. In the 1980s, when the nation was embroiled in a bloody civil war, he taught Portuguese to secondary school students while playing for the national basketball team. In those years, driving even 30 miles from the capital of Maputo could cost you your life, recalls Caifaz, adding that nearly everyone who grew up then knows someone who died amidst the violence that tore the country apart for 16 years.
When the conflict ended, the Ministry of Labor hired Caifaz to oversee a vocational training center where former soldiers prepared to assume civilian roles. "The work involved changing people's vision of themselves and their roles in society. It had to be done very carefully," he explains. From there, Caifaz assumed progressively greater levels of responsibility, eventually serving as Director of the National Institute for Employment and Vocational Training. His position afforded him an in-depth understanding of the nation's youth employment resources, challenges—and opportunities.
Now, Caifaz is charged with bringing about change—in how young people view themselves and their possibilities—and how government and businesses prepare youth for their futures. In essence, the Via initiative is taking strides to help bridge the nation's social development gap. While Mozambique has achieved impressive economic growth in recent years—it's also one of the poorest countries in the world. Despite gleaming office towers and bustling highways encircling the capital, the national poverty rate hangs just below 55 percent.
When it comes to nurturing youth aspirations and agency, Caifaz sees enormous potential in equipping young people with much-needed soft skills. Whether pursuing the employability or entrepreneurship pathway, all Via participants take part in IYF's Passport to Success® (PTS) life skills training. "I'm very passionate about PTS," says Caifaz, who has personally trained over 30 professionals to deliver PTS across the country. "I've seen the results and the changes in young people's behaviors. The training teaches youth to be unselfish, while developing their sense of self. There's no judgment involved."
As for improving the nation's TVET offerings, Caifaz emphasizes the importance of asking employers what skills they need and aligning technical training programs accordingly. "Employment centers tend to operate in a reactive mode," he says. "They're not looking ahead and carrying out the labor market analyses required to inform how they operate." In addition to making training more relevant, Via will also strengthen career guidance services so that young people get the support they need to plan their futures and connect with employers—and opportunities.
As for the relationship of basketball to his career, Caifaz is currently overseeing the launch of an IYF sport for development initiative, Dzima!, in partnership with Mozal Aluminum. When launched in 2017, Dzima! will deliver elements of IYF's PTS curriculum—including modules about communication, confidence, teamwork, and goal-setting—to out-of-school youth on the football pitch. The life skills lessons will be augmented with career guidance, ensuring youth are aware of the salaried and self-employment opportunities available to them.
Sports becomes the gateway to provide much-needed services, says Caifaz, adding "It's all about helping youth look at their lives—and possibilities—in a more positive way."