Meet the Young Team in Kazakhstan Advancing STEM Education
Read All Posts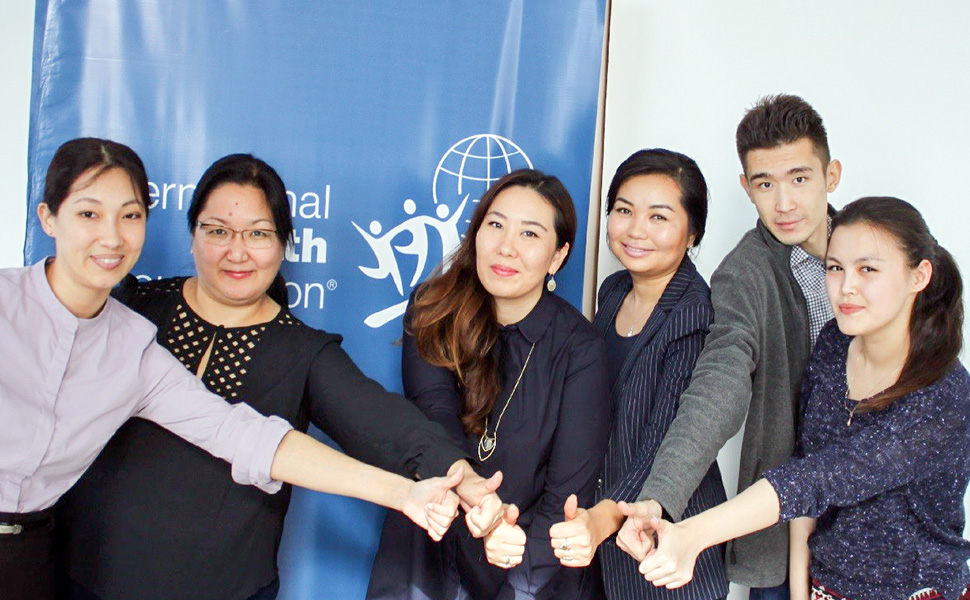 The following post is part of a series highlighting the work being done in IYF's field offices around the globe to empower youth.
Millennials—individuals born between 1980 and 2000—currently account for 34 percent of the global workforce and, according to a Brookings estimate, the number could soar to 75 percent by 2025. As baby boomers occupying the upper echelon of corporations retire, millennials will take on greater leadership roles and responsibilities.
When Assem Satmukhambetova, 30, was assembling a team for a new IYF initiative in Kazakhstan, age wasn't necessarily a criterion she considered. "I was looking for people who shared the values and vision of the organization—people who are passionate and driven to work hard to make a difference," the Program Director says. As a recent article in Forbes noted, mission-oriented ambition is a hallmark of millennials in the workplace, with 84 percent placing the ability to make a lasting difference at the top of their professional goals. For mission-driven non-profits like IYF, this bodes well.
The six-person team in Kazakhstan works on IYF's Chevron-funded Zangar initiative, which equips young women and men in Kazakhstan's Atyrau region to find and retain employment by coupling life skills development with science, technology, engineering, and mathematics (STEM) training. When Zangar launched in 2015, the inclusion of STEM programming into the standard educational curriculum was in its infancy in Kazakhstan, but it's grown impressively in the last two years, due in large part to the passion of the team--as seen from left to right in the photo:
Tolkyn Omarova, Program Manager, 31: "My favorite part of the work I do is talking to youth directly during focus groups, getting young people's insights, and hearing how the program positively influences their lives."
Maira Abakanova, Finance and Administration Manager, 46: "I am proud that, for two years, our team has been successfully implementing the Zangar program—now it's known locally and country-wide."
Assem Satmukhambetova, Program Director, 30: "We strive to be trusted by the people we serve."
Meirgul Alpysbayeva, Program Manager, 31: "Since I work on the life skills component, I am proud of our trainers who deliver Passport to Success® (PTS) trainings to Atyrau's youth and of the youth who achieve success with the help of our program."
Nurzhan Amangossov, Program Manager, 25: "I'm proud of the amazing programs we offer and seeing the youth use the skills they learn in real life."
Ainur Orynova, Administration Assistant, 22: "The first time I heard about Zangar was on Instagram. Now, I am proud to be contributing to youth development in Kazakhstan."
Perhaps the greatest boon of having a relatively young team is felt by Zangar's beneficiaries—youth ranging in age from 10 to 22. According to one young IT student, "I liked that we had a young coordinator, who was always available for us, either in person or by Skype. This helped with discussing ideas without hesitation." Beneficiaries like this one often report finding it easy to connect and trust the young team, particularly the three program managers with whom they frequently engage directly. Satmukhambetova explains, "Our team tries to lead by example because we recognize that many youth look to us as role models."
Their ages also mean many team members share a similar frame of reference with the youth they serve and, on a personal level, understand the specific challenges Kazakhstani youth face. The team's willingness and ability to engage openly with the youth they serve is a characteristic shared by many millennials. According to a recent CNBC op-ed, millennials value mentorship, pour themselves into work they believe in, and recognize life skills—like effective communication—as critically important.
Findings from the 2017 Global Youth Wellbeing Index make clear that young people want to take an active role in shaping the future of the workplace, and the world. At IYF, we ensure youth representation on committees, on our board, and at the helm of projects, programs, and initiatives. Today, with an average age of 30, the team in Kazakhstan illustrates what strong youth leadership looks like and the contributions a dedicated, talented, passionate staff—of any age—can make.
"I'm proud of the work we're doing," Satmukhambetova says. "They are my dream team."