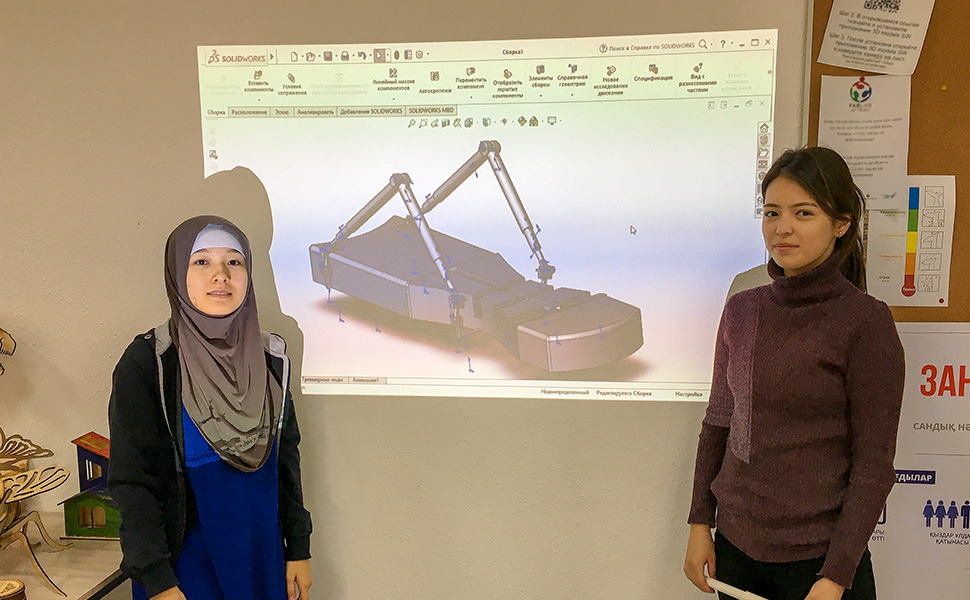 Around the world, women are underrepresented in science, technology, engineering, and mathematics (STEM) fields. However, change is happening at the individual level. In Kazakhstan, Asylai Koszhanova and Shynar Lukpanova, participants in the Zangar initiative, are part a growing number of girls and young women who are pursuing STEM educations and planning to seek STEM-related careers.  
The two 20-year-olds are both students at APEC PetroTechnic, a vocational and technical college in Atyrau, Kazakhstan. They are enrolled in power supply, a three-year program which will prepare them to work with and maintain equipment used in the oil and gas industry. "When we were in the last grade of our school, we were already thinking about getting into college, but engineering was not our priority," Asylai recalls. "Now, we see how fascinating it is." Shynar adds that it was very appealing to go to APEC PetroTechnic because tuition is free, and all courses are taught in English.  
Even at APEC, though, the ratio of young men to women is imbalanced—approximately 4 to 1. "Boys play with toy cars, toy tanks, toy airplanes, and probably develop some sort of inner inclination to engineering," Asylai posits. Shylar adds, "Males—in the opinion of employers—are physically stronger and rarely take paternal leave. But things are changing. Now, you do not need to be physically present to check and fix some issues with equipment. Most of the processes are turning digital. You just need to know the software and almost everything will be done by machines."
In addition to offering traditional vocational and technical courses, APEC recently incorporated hands-on STEM learning opportunities and life skills training into its formal curriculum. Through IYF's Zangar initiative, in partnership with Chevron and local government, APEC students now receive Passport to Success® lessons to develop life skills and have the chance to work in a state-of-the-art Fab Lab where they practice technical skills such as programming, 3-D modeling, robotics, and rapid prototyping.
It was at the Fab Lab that Asylai and Shynar learned about the National Innovation Competition organized by the National Agency for Technological Development. Excited by the challenge, the two friends immediately devised an ambitious project idea. Putting their scientific minds and growing STEM skills to work, the two planned to build a continuous passive motion (CPM) machine which could be used by patients who have undergone knee replacement surgery to safely exercise their leg muscles without re-damaging their knees.
Looking back on the experience, Asylai and Shynar quickly admit—with a laugh—that while they were eager to jump into the project, they really didn't know how to start. "It's a completely different experience compared with the courses we had before," says Asylai. "Now, we realize that one must investigate and research the problem and then think about planning before actually making anything." Shynar adds, "Even the 3-D modeling software that we thought we knew how to use turned out to be much more complicated and much more versatile than we could ever imagine."  
With the support of the Fab Lab manager, though, and after consulting local experts, the teammates were able to apply the skills they learned in class to the real world and successfully designed a CPM prototype. "We don't expect to win the competition," Shynar says. "We just want to share with other people how you don't have to be a big expert to address a problem."
Whether they win the competition or not, Asylai and Shynar are providing a model for young women everywhere interested in building a future in STEM. 
Nurzhan Amangossov is an IYF Program Manager in Kazakhstan.