I Went to Take Pictures, But What I Saw Changed My Perspective on Baltimore
Read All Posts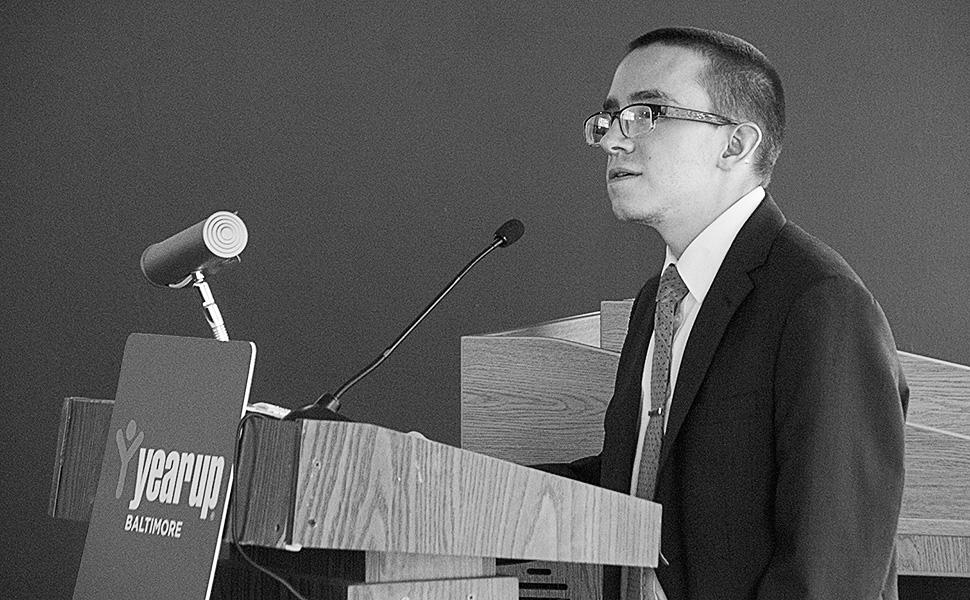 A few weeks ago I was invited to tag along as the photographer on a site visit to Year Up Baltimore, the local branch of a professional job training corps for young people in 17 U.S. cities. Partners from our EquipYouth initiative were visiting from as far as Brazil and South Africa, and they were eager to exchange experiences and information with this organization that trains Baltimore's youth in ways that parallel their own work and what IYF does. And me? As a long-time resident who loves this city for better or worse, I was curious to see Year Up's impact here.
EquipYouth, funded by the Caterpillar Foundation, Caterpillar's philanthropic organization, shares with Year Up an emphasis on life skills and practical training that prepares young people for real jobs where employers are hiring. Both initiatives, together with IYF, are dedicated to helping young people succeed.
I don't have the perspective of the EquipYouth international partners, but I know Baltimore. In a city that saw its deadliest year in history with 344 homicides in 2015, unemployment rates higher than the national average, and a general sense of hopelessness and unrest—especially among the African-American community—it was refreshing to witness young professionals talk about their positive experiences through Year Up.
We first met Bob, a young man who struggled through high school with very low grades and, as he puts it, no motivation to succeed. A friend of his who had recently completed the Year Up program suggested that Bob look into it for possible internship opportunities. Through tears, Bob spoke about how this program eventually saved his life. After six months of technical and professional training through Year Up, he landed an internship with Symantec, the same company where his friend—now his supervisor—works. These days he wakes up at 3:45 a.m.; leaves Baltimore at 4:30 a.m. in a car financed by his grandmother; arrives at his internship in Herndon, Virginia, at 5:45 a.m.; and begins his day. "I get home from work when I used to be waking up for the day," said Bob.
After next hearing from a young woman who has secured work in cyber security, we met David, a young man who lives in the city with his mother, siblings, and two-year-old daughter. A graduate of the Year Up program, he has now worked in the Johns Hopkins University IT department for one year. He, too, says that Year Up "changed his life" and was all smiles as I asked him about his job, his daughter, and his experiences.
Raising two young kids of my own in Baltimore City, I find hope in the knowledge that their peers and cohorts have this opportunity at their fingertips. Year Up provides access to a quality education and a supportive professional community from which to start new careers and most importantly, new beginnings.
Lynde Pratt is IYF's Design Manager.