How Youth in Southern Morocco Are Serving Their Community
Read All Posts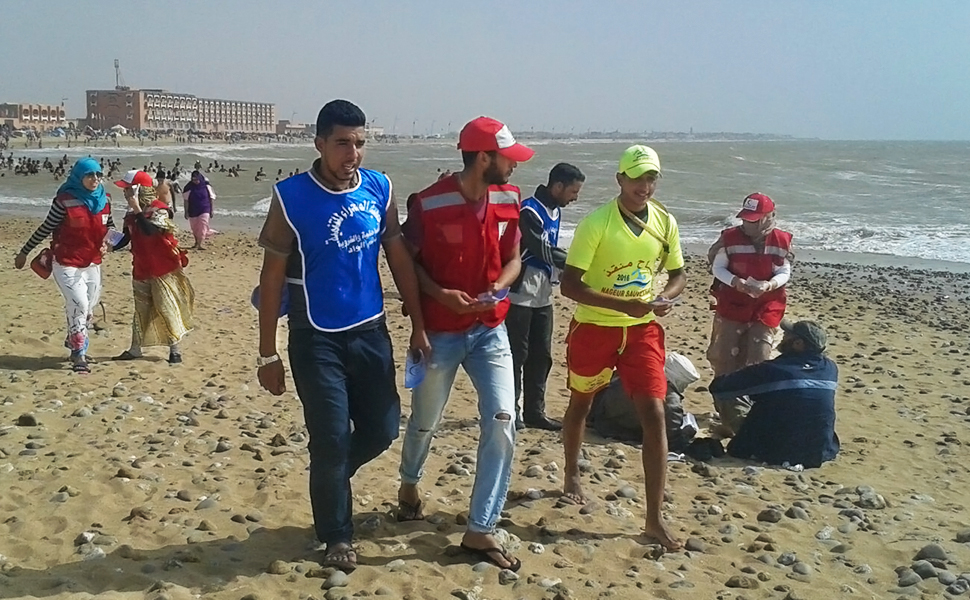 Like many of the places where IYF works, the small community of Foum el Oued in Southern Morocco faces many challenges, particularly for youth, in terms of transportation, health and safety education, extracurricular and athletic activities, and labor market limitations. In this particular town, youth like Koumani, Aicha, and Rachid are taking matters into their own hands to improve their community's well-being after taking part in the Foum el Oued (FeO) initiative.
With funding from the Phosboucraâ Foundation, FeO includes training in life skills, entrepreneurship, and, using the I:SERVE curriculum, community service. I:SERVE is designed to help youth become more engaged civic leaders and focuses on training and ongoing coaching for planning, budgeting, and implementation. With partial funding from IYF and the commune of Foum el Oued, dozens of youth were able to bring their community service projects to life.
With a passion for youth development, Koumani used his prior teaching experience to come up with a creative solution for reaching local young people. "As a former teacher, I have noticed the need to go outside of conventional programming to reach primary and middle school students," he says. Koumani's Mobile Library, which he attaches to the back of his motorcycle, travels throughout four different areas of the community, including local schools.
He delivers several genres of books in French, Arabic, and English, in order to attract readers with different tastes. According to Koumani, Foum el Oued doesn't have a "reading culture," because the educational system lacks the necessary resources and there is no community library. Koumani hopes to directly address some of his community's issues, while encouraging youth to become self-learners and sharing his love of reading.
Aicha, another Foum el Oued native, is also taking ownership in making change. She describes participating in I:SERVE as an "unprecedented opportunity," and she has saved lives along the way. While the community has a beautiful beachfront for locals to enjoy, it lacks lifeguards and other protective protocols, and some visitors have even drowned. That's why Aicha created a beachfront health and safety initiative to add the appropriate signage to their beaches, offering a map of dangerous areas to avoid. Safety incidents on the beach dropped by more than 50 percent this summer, thanks to Aicha's project.
Rachid decided to pitch in for his community by taking a different route. He organized a full renovation of Foum el Oued's local sports facility, which had been out of use for quite some time. Along with volunteers from the community, Rachid and his team used funding from IYF and the commune to add the necessary tanks and heating equipment to the center and install gym and training equipment. To entice community members to join, his team cleaned the exterior of the building. After these updates, enrollment at the sports center doubled.
These projects are just a sampling of the ways in which the youth of Foum el Oued are strengthening their community. Their success demonstrates the power of equipping motivated young people with the skills to be agents of change.
Nina Minadakis is Program Coordinator, Middle East & North Africa.