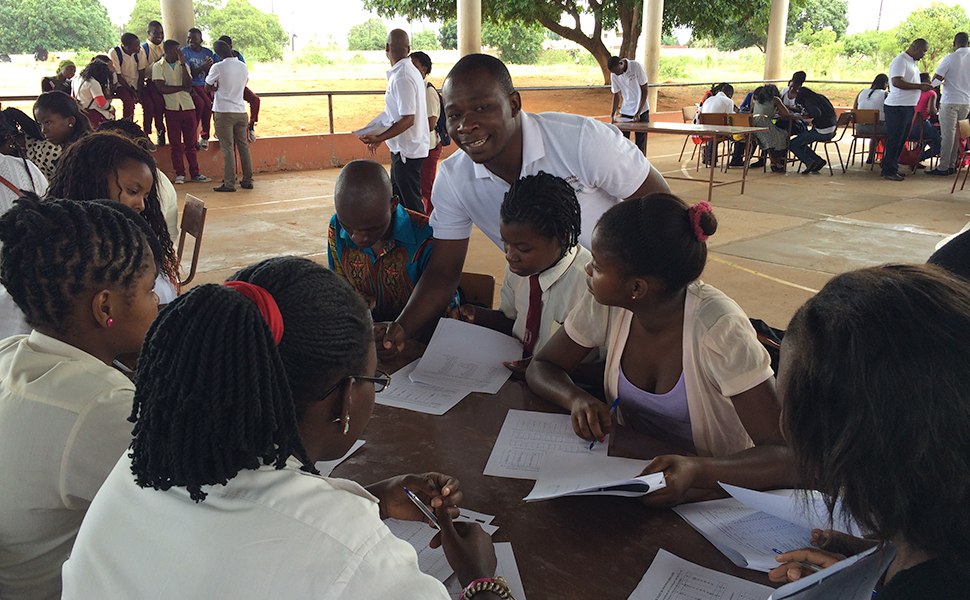 As frameworks for working with youth have evolved over the past decade, they continue to shift towards a Positive Youth Development approach. This means building on young people's strengths and increasing their engagement and contributions to programs that aim to serve them. However, discussions with and testimonies from young NGO workers and youth leaders during a recent international forum are a testament that we still have a lot to learn.
In early May, I had the pleasure of participating in the 2018 Stockholm Forum on Peace and Development, organized by the Dag Hammarskjold Foundation and co-hosted by the Swedish Ministry of Foreign Affairs and the Stockholm International Peace Research institute. While the forum tackled issues related to peace-building, conflict prevention, and the U.N. Sustainable Development Goals (SDGs), youth—and their stake in these challenges—were at the heart of each discussion. Some of the key takeaways for me were about dispelling misconceptions around youth and youth engagement:
Youth isn't just about age—it's milestones. We tend to think of young people as defined by a birth date; however, in most of the world's cultures, youth and adulthood are social statuses defined based on the person's experiences and achievements. Whether we're in rural Morocco or rural India, young men and women who are unemployed or living with their families are still not considered to be full adults, regardless of their age. As development practitioners, we should focus on solutions that enable youth to achieve milestones that are often inaccessible, such as finding employment with a livable income, being able to get married, and reaching financial independence. We also should look to keep them engaged in their communities as they go through life's transitions. At IYF, one key approach has been life skills training, through Passport to Success

®

, which benefits young people at home, in school, and on the job.
Inclusion isn't the same as partnership. The wording we use reflects how we perceive certain issues and shapes our thinking around potential solutions. In youth development, the term 'inclusion' suggests that the current system is effective and requires us as development organizations only to bring young people in. However, many youth don't engage because they do not trust the existing platforms and structures and do not see them as adequately representative or participatory. According to IYF's Global Youth Wellbeing Index, 2 out of 3 young people surveyed do not feel their governments care about them. Similarly, during the Dag Hammarskjold Foundation event, many youth voiced concerns about corruption and complex government structures. Trying to "include" youth in such systems would be retrofitting solutions into an already broken system. Instead, we should engage with youth as partners in solving the challenges they face, working with the already existing platforms and networks that youth themselves are establishing.
Change the plan, not the goal. Youth in many parts of the world are creating their own coalitions, social ventures, and NGOs, and they are defining their own agenda based on what matters to them. Meanwhile, governments and youth-serving organizations (YSOs) wonder why they struggle to get adequate representation from youth—a frame of reference that paints young men and women as disinterested and disengaged. YSOs should look where youth leaders are already having those discussions and ask the question, "Instead of inviting youth representatives to our table, what value do we add by being invited to theirs?" Youth development organizations can help strengthen the impact of youth-led solutions, such IYF's initiative to support the 1,700 young social entrepreneurs who are YouthActionNet® fellows.
Gender equality isn't enough; work toward gender equity. Despite important strides, many development organizations still tend to focus merely on including equal numbers of men and women in their programs. While important, equal access to resources and opportunities (gender equality) is only the first step towards achieving equitable outcomes (gender equity). Failing to examine and understand gender disparities and designing programs based on different gender experiences and roles could put either men or women at a greater disadvantage. Conducting a gender analysis prior to designing any initiative is a crucial step to ensure that we understand and incorporate the different gender dynamics in any context.
Make more space for youth. When institutions wonder why they struggle with youth representation, their line of thinking puts the responsibility on young people, who had no say or role in creating these problems. We should also examine the demand side where institutions and platforms are occupied mainly by leaders and decision makers who have been there for a long time. Working with young leaders on strengthening their skills and amplifying their voice is crucial; however, we should also work with organizations and institutions to bring transparency and accountability and ensure that the space allows for youth contributions and initiatives.
These issues and misconceptions intertwine and continuously evolve, and considerable challenges persist. However, advancing youth engagement, cultivating leadership, and strengthening youth-serving institutions starts with listening to youth and finding ways to strengthen and amplify their voices and contributions to the challenges faced by youth today.
Linda Wafi is an IYF Program Manager.