How to Get Industrial Sector Employers to Hire More Women
Read All Posts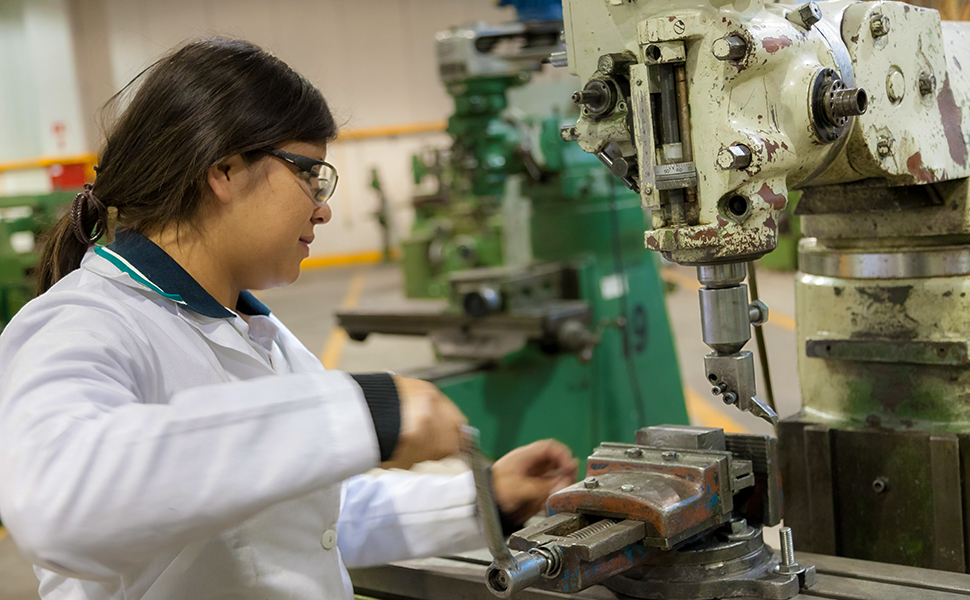 In a prior blog post, I wrote about some of the lessons we learned in recruiting and retaining young women in vocational training in Mexico and Peru through the EquipYouth initiative. While this important learning allowed us to conduct more effective outreach with young women and provide them with the tools they needed to train for industrial sector jobs, all of this work is for naught if companies are unwilling to hire them.
Occupational segregation, the number of people of each gender in jobs, has been a topic of close study under EquipYouth. The initiative, a NEO-associated project, is a partnership between IYF and Caterpillar's philanthropic organization, the Caterpillar Foundation, with vocational training led by partners CONALEP NL in Mexico and Tecsup in Peru. Trends show that the countries' female-dominated occupations, typically low-skilled service jobs in areas like administration and sales, tend to earn less on average than male-dominated ones, such as plant and machine operators in heavy industry. For example, in Peru, individuals employed in male-dominated occupations earn 37 percent more than those in female-dominated occupations.
To close the gender wage gap and promote women's economic mobility, women need increased access to traditionally male-dominated jobs. Through EY, we've seen promising change. Six months after youth graduated from the imitative in Peru, we followed up with our graduates and learned that young women who were employed in the industrial sector earned on average twice the amount of their peers in sales or customer service jobs. Most significantly, their monthly incomes were on par with male graduates employed in similar positions.
How did we get there? Aside from the hurdles mentioned in my previous post, 3 Lessons for Increasing & Sustaining Women's Participation in Vocational Training, the most challenging barrier encountered during EquipYouth was on the employers' side. Due to stereotypes or a historical precedence of hiring only men, industrial sector employers were often reluctant to hire young female mechanics or packing and storage operators.
Employers in Mexico cited that they simply didn't have the physical infrastructure for women, such as separate restrooms. Meanwhile, employers in Peru said women didn't have the physical strength required for the job or that it wasn't appropriate for a woman to be in a workspace with so many men.
The EY project teams engaged with employers early in an effort to raise their awareness around the benefits of hiring young women. While we didn't have adequate time or the right incentives to address the infrastructure barriers in these companies, campaigning on behalf of particular stand-out woman trainees proved to be a particularly successful job placement strategy.
                                                                                                  
In Peru, an employer ally, Honda, was looking to hire several EY graduates as packing and storage operators. After a successful first experience employing vulnerable youth who had trained through the initiative, Honda specifically asked for men because they were "stronger than women." Rather than placing only young men in the company, the project team urged Honda to hire one woman with the group. Presenting the idea as a pilot, they emphasized that this woman had received the exact same training as the men they'd been so satisfied with. The team shared her excellent assessment scores and her attendance record—better than some of her male peers—and talked about how she had taken on tutoring her classmates and, as a peer leader, acted as the head of the classroom. Skeptically, Honda conceded.
When the EY team followed up a few months later, they learned that Honda was very pleased with the young woman's work, her attention to detail, and her emerging leadership skills. So much so, they expressed a desire to hire additional young women from the next cohort of EY graduates.
While this job placement strategy succeeded in this instance, it doesn't address other barriers such as safety, workplace culture, infrastructure, uniforms, or other reasons industrial sector companies won't hire women. If we are to make meaningful and long-term changes in employers' perception of women as workers, especially in countries and sectors with an underrepresented female workforce, employability programs need to invest a significant amount of time in creating education campaigns and incentivizing employers both to hire women and create an environment in which women would want to work. If not, we run the risk of preparing hopeful young women, who have overcome many barriers and challenges, for a labor market that is unable or unwilling to absorb them.
Amanda Ortega is Program Manager, Latin America & the Caribbean.