He's a Computer Engineer from India Fighting Gender-Based Violence
Read All Posts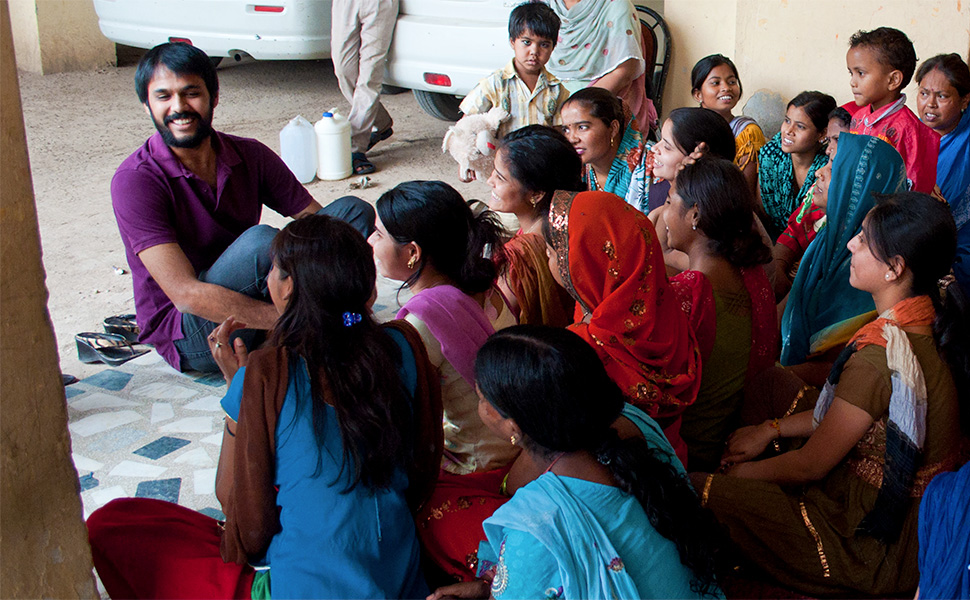 This blog post is part of a series that explores the role of IYF's YouthActionNet® fellows in advancing the UN's Sustainable Development Goals (SDGs).
"I identify as a feminist, and I identify as a man, and I've experienced that there doesn't have to be a disconnect there," says 27-year-old Aditya Gupta, co-founder of People for Parity in India and a 2016 Laureate Global Fellow.
In 2012, while studying computer engineering, Aditya watched in horror as news of the brutal gang rape and murder of a young student riding a bus in Delhi unfolded in the media. As citizens of India and news followers worldwide reeled at this heinous example of the pervasive violence and injustice against women, Aditya knew he could be an observer no longer.
After graduating and gaining experience working in the social change field, Aditya and a classmate from university co-founded People for Parity (PfP) with the vision to foster a world free of gender-based violence and discrimination, where every person can achieve their full potential. While Aditya launched PfP in response to disturbing realities witnessed in his own country, his work answers the broader call of Sustainable Development Goal #5, Achieve Gender Equality.
The PfP model engages youth as agents of change who reach out to their peers to spark a revolution of empathy and nonviolence. Youth are challenged to rethink their assumptions on gender through a range of activities, including workshops and six-month fellowships. Through experiential learning and peer-to-peer dialogue, youth discover how gender issues are imbedded in all of our lives and affect outcomes related to education, career, health, and relationships in myriad ways.
Aditya and his team also teach young people that gender issues are not only women's issues—they affect everyone. That's why PfP prioritizes diversity in all its initiatives, including the active participation of men and boys—as well as all others on the gender spectrum—as staff, volunteers, beneficiaries, and supporters.
As youth gain an increased understanding of the complexity of gender, they are better equipped to advocate against gender-based violence in all of its physical and non-physical forms.
PfP's model is working, and the organization and its reach are growing. Ninety percent of participants report an increased understanding of gender and how they can practice more sensitive behavior. The PfP team has expanded to eight staff members, who together have reached over 6,000 students through gender education courses in schools and trained more than 200 youth to become ambassadors in their communities for gender parity.  
A talented computer engineer doesn't fit the profile of someone many people would expect to ignite a revolution of human connection, empathy, and unity. But Aditya and his accomplishments reaffirm IYF and YouthActionNet's conviction that every young person has the power to drive positive change, and he believes his story is just the type that will become more common as young Indians increasingly understand and work towards gender parity.
Plus, Aditya hasn't let his tech training go to waste. He's always on the lookout for new ways to leverage technology, including the development of a psychometric tool to measure PfP's impact on shifting culturally violent mindsets.
Aditya recognizes that when it comes to culture change, there's no such thing as a quick fix. Yet he believes by 2030, the target date for achieving the SDGs, we can "make a strong dent" in all forms of gender-based violence and discrimination.
"In a country like India, in which half the population is young, look at them as a wonderful opportunity to rewrite history, to rewrite culture" says Aditya. "The fact that we're all young means that if we change the narrative today, we can change the culture permanently tomorrow."