A Force for Good: Meet the 2016 Laureate Global Fellows
Read All Posts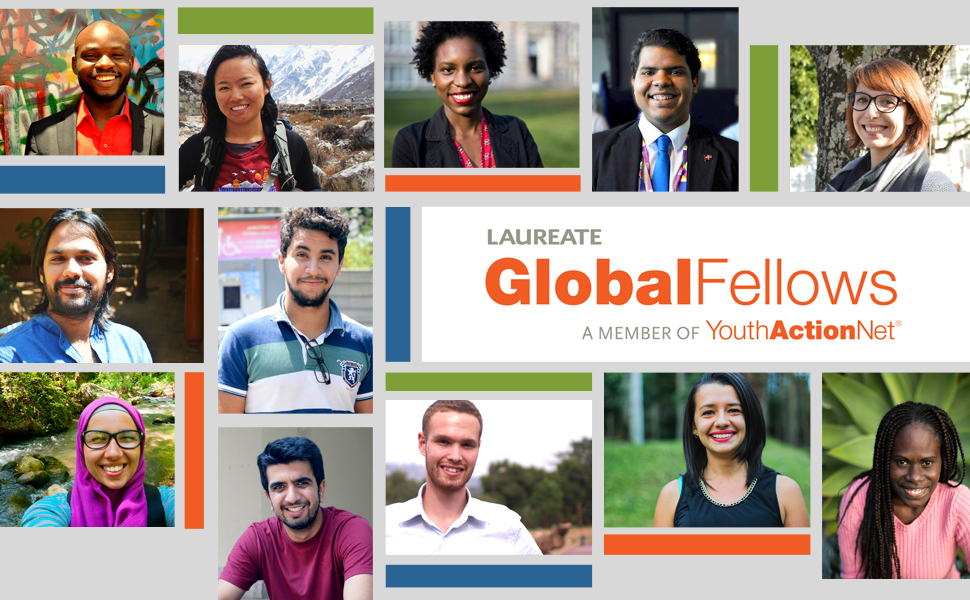 Whether you see today's world as one of formidable challenges or bold possibilities depends on where you look. The 2016 Laureate Global Fellows—20 exceptional young social entrepreneurs in 18 countries—excel at transforming seemingly overwhelming obstacles into opportunities for positive change. 
To tackle the problem of accumulated plastic in Peru's marine ecosystems, for example, Irene Hofmeijer founded Life out of Plastic, which has mobilized over 30,000 citizens, removed 95 tons of waste, and upcycled more than a million plastic bottles. For Aditya Gupta, Co-Founder of People for Parity, preventing gender-based violence in India has meant engaging youth—both young men and women—in efforts to educate thousands of their peers about gender, violence, and fundamental human rights. 
Irene, Aditya, and the other newly selected Laureate Global Fellows are poised to begin a yearlong learning journey that includes advanced leadership training, advocacy, and networking opportunities. The fellowship, open to 18-to 29-year-old leaders of social change, is the result of a partnership between Laureate International Universities and the International Youth Foundation through its YouthActionNet® initiative.
"In the face of today's escalating challenges, the 2016 Laureate Global Fellows remind us of the power of passion and persistence in creating lasting solutions," said IYF President and CEO Bill Reese. "The contributions of these young founders and CEOs cannot be overlooked in achieving the Sustainable Development Goals set by the international community. We couldn't ask for a more ideal partner than Laureate International Universities for amplifying the impact of these young leaders and hundreds more like them." 
"Congratulations to the 2016 Laureate Global Fellows for their sweeping innovations and the inspiration they offer to their peers and each of us," said Douglas L. Becker, Laureate Founder, Chairman, and CEO. "In a world where it's easy to focus on problems, these young men and women demonstrate the power of compassion in action, and learning through doing in achieving sustainable solutions."
The 2016 Laureate Global Fellows are the newest members of the YouthActionNet global network, which includes nearly 1,400 young change-makers in 90-plus countries. Fellows receive support through 23 youth leadership institutes around the world, including 15 established at Laureate International Universities.  
These young leaders are among this year's Laureate Global Fellows: 
Sharon Adongo, 26, Kenya – Sharon launched Uwazi Technology Consulting to strengthen the impact of social change organizations through technology solutions that improve financial and operational systems, track outcomes, and increase efficiencies. 
Rainier Mallol, 25, Dominican Republic – Rainier co-founded AIME to predict and help prevent the outbreak of major diseases using a combination of artificial intelligence, epidemiology, and public health expertise. 
Imran Sarwar, 29, Pakistan – Imran co-founded Rabtt to create a more empathetic society in Pakistan through training university students to serve as volunteer teachers and mentors to high school students.
From October 7 to 13, all 20 Fellows will participate in an in-depth training workshop in Costa Rica, where they will share their innovative approaches with corporate, civic, and public sector leaders at a special event held on the campus of Universidad Latina de Costa Rica. 
Visit the YouthActionNet® website for descriptions of all 2016 Laureate Global Fellows and their ventures.