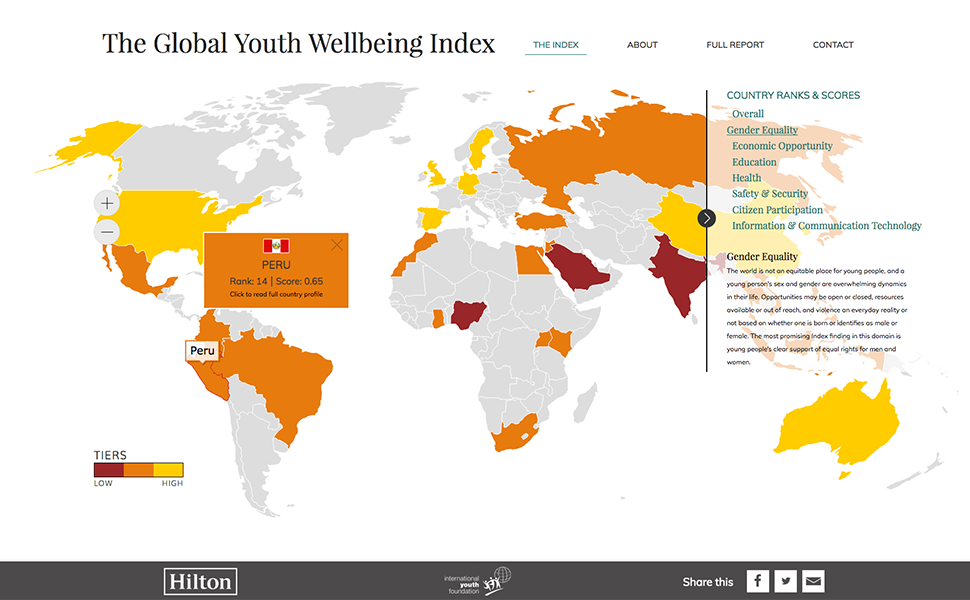 While youth demonstrate their power and promise every day, for too long a lack of cohesive youth-centric data has created challenges and barriers to progress. Launched in September, the 2017 Global Youth Wellbeing Index aims to facilitate discussion and greater strategic investments in the world's young people. The Index website, www.youthindex.org, makes the full report's data and analysis readily accessible.
A diagnostic tool, listening device to record and elevate youth perspectives, investment guide, and benchmark for the Sustainable Development Goals, the Index examines youth wellbeing in a set of countries home to nearly 70 percent of the global youth population. The accompanying website has three key features:
An interactive map on the homepage allows visitors to quickly explore Index findings from the seven domains: gender equality, economic opportunity, education, health, safety and security, citizen participation, and information and communication technology. After choosing a domain from the right-hand sidebar, viewers can click on individual countries to see the rank and score. The map also makes it easier to get a sense at a glance; countries are colored yellow, orange, or red to correspond to high, medium, and low tiers of youth wellbeing overall and for each domain.
Country profiles offer a closer look at progress and challenges in a localized context. Each profile includes a country's rank and score overall plus for the seven domains, presents graphs with key findings, and highlights young people's valuable and sometimes surprising perceptions pulled from IYF's 2016 Global Millennial Voices Survey. For example, the Indonesia profile shows a very high score in citizen participation but a higher than Index average rate of youth unemployment, combined with strong positive youth expectations about their standard of living.
The full report, available for download, is a comprehensive, 156-page publication that includes key findings, analysis and a call to action for each domain, and more than 50 tables and graphs. That link also includes the full raw data set used for calculations, for download.
While these features of the Index website can tell you which country earns the number one rank overall, the goal is not to point fingers—and the data points are not the end game. The point is to emphasize the real work that remains to be done to advance youth wellbeing in all corners of the world, which will require concentrated, prolonged effort and strong parternerships.
To learn more and download the full 2017 Global Youth Wellbeing Index, visit www.youthindex.org.