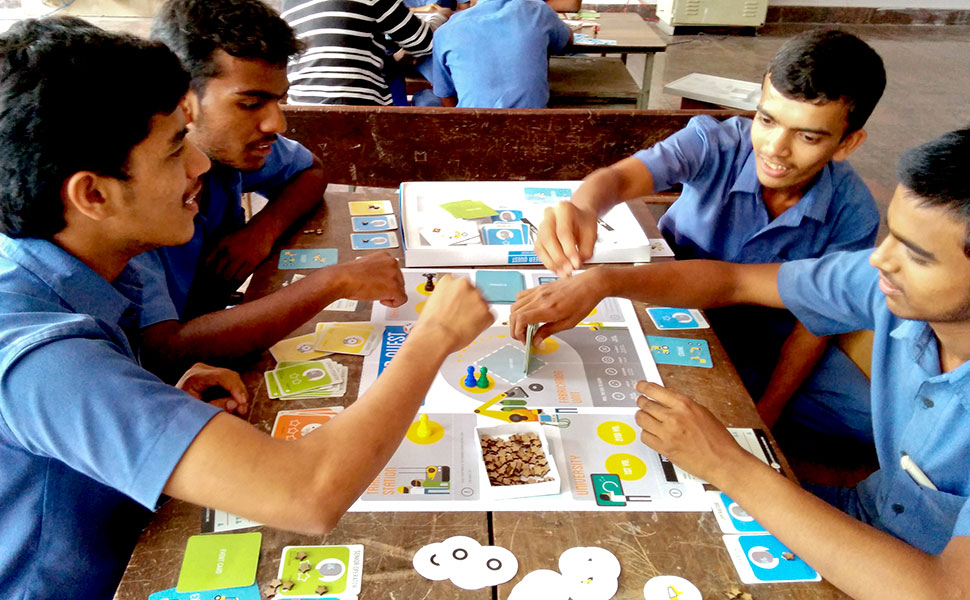 How do you make learning how to excel in the workplace fun and engaging for young factory trainees? If you are IYF's partner QUEST Alliance in India, you design a board game that takes players on a journey through a 'day in the life' of a manufacturing facility, allowing them to prepare for the very real opportunities and obstacles they will soon need to navigate.
Players of the game, called Career QUEST, compete to earn as many 'production points' as they can before their shift ends. Producing timely reports and engaging mentors ratchet up a player's score, while poor time management, conflicts at work, and equipment problems seriously impede one's chances of winning.
Career QUEST was developed as part of EquipYouth, a global job training and workforce development program being implemented by IYF with support from the Caterpillar Foundation. The game reinforces the 110 hours of life skills training players previously received, which includes lessons on time and money management, personal values, gender roles and stereotypes, conflict resolution, and other topics.
Career QUEST was created to fill what some educators consider a void in vocational schooling in India: a lack of student exposure to the wealth of professional choices available to them and a limited understanding of how to advance in their field. To correct this, the game enables its players to visualize a range of technical career options. "It helps students to make sense of the industry in a pictorial way," observes one QUEST administrator.
EquipYouth students express gratitude for a glimpse at what lies ahead: "[The game] was really fun. We didn't know how the workplace works, but we came to know the details of how a company operates. It made me realize what my future would look like," said one Career QUEST player.
To date, EquipYouth has trained 1,000 youth in India, a significant portion of the program's 8,000 beneficiaries worldwide, suggesting the far-reaching potential for Career QUEST to be incorporated into future curriculum teachings. The board game is now being translated into Spanish for use in Latin America. Plans are also being explored to adapt the concept for use in a range of industries, including retail.
Regardless of the field, the benefits of the career guidance game are clear. Says one young player, "It [Career QUEST] made me think about whether I had the skills to make the same choices in real life, if I were in that position."