Actions Speak Louder Than Words: What I Learned About Youth Voice at a Youth-Led March in Baltimore
Read All Posts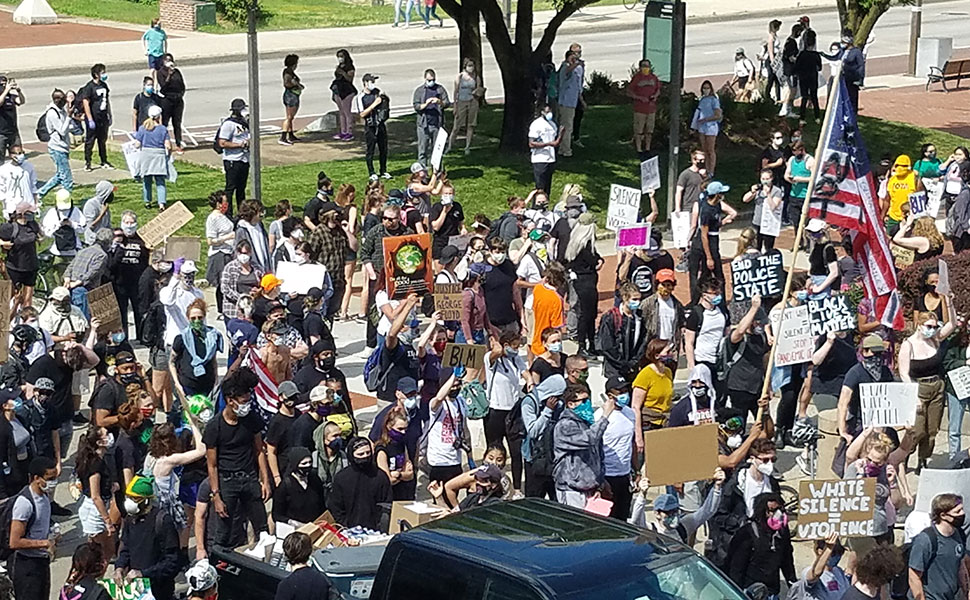 Across the globe, young people are making their voices heard—they are marching, protesting, and working to make the world a more just and peaceful place for us all. And they are committed to action more than ever.
Monday afternoon, I attended a youth-organized, youth-led demonstration in downtown Baltimore, just a block from IYF's headquarters. Thousands of people from all walks of life gathered to express solidarity with other demonstrators across the country, to call out and condemn systemic racism and violence against people of color, and to demand justice for George Floyd.
I was there to express my solidarity, too, but also with the plan of interviewing some of the young participants. After all, part of IYF's mission is to provide a platform for the voices of young people.
Keeping with COVID best practices as much as possible, nearly everyone wore a mask—which were also provided by organizers along with hand sanitizer and bottled water. People carried signs: Black Lives Matter, No Justice No Peace, White Silence = Violence, Say Their Names. One young man waved an American flag on which was written Not Free and dozens of names: Trayvon Martin, Tony McDade, Ahmaud Arbery, Breonna Taylor, George Floyd, Freddie Gray, and too many others killed for being Black.
A few minutes before the official start of the march, organizers addressed the crowd through a bullhorn, laying down ground rules. Above all, they emphasized safety and the peaceful nature of the protest. They also cautioned white demonstrators not to say or do anything that could endanger demonstrators of color—an important and well-received reminder that police response to protest activity is often more severe for Black women and men. Meanwhile, Baltimore PD officers redirected traffic and patrolled on bicycles while helicopters occasionally circled overhead.
I'd just decided to approach the man with the flag for an interview when an organizer issued a final ground rule.
"Listen!" she said. "We're not here to talk to the media. We are here to march for change."
Elevating the voices of young people is important because too often they aren't heard. Moreover, efforts to do so by youth-serving organizations are usually well-intentioned. But I realized, on this day, it wasn't about talking, or having their voices represented on a website, in a newspaper, or across social media.
It was about taking real action.
We in the youth development field need to remember—young people own their voices. They decide when, where, and how to use them. We provide them with a platform, but a young person's freedom to decide when to use it—and when not to—is the point.
The youth-led march in Baltimore was powerful, purposeful, and peaceful. It was inspiring and instructional.
More than anything, it illustrated how young people are leading the charge for change.