To Achieve Global Goals, Be Audacious, Take Risks & Invest in Youth
Read All Posts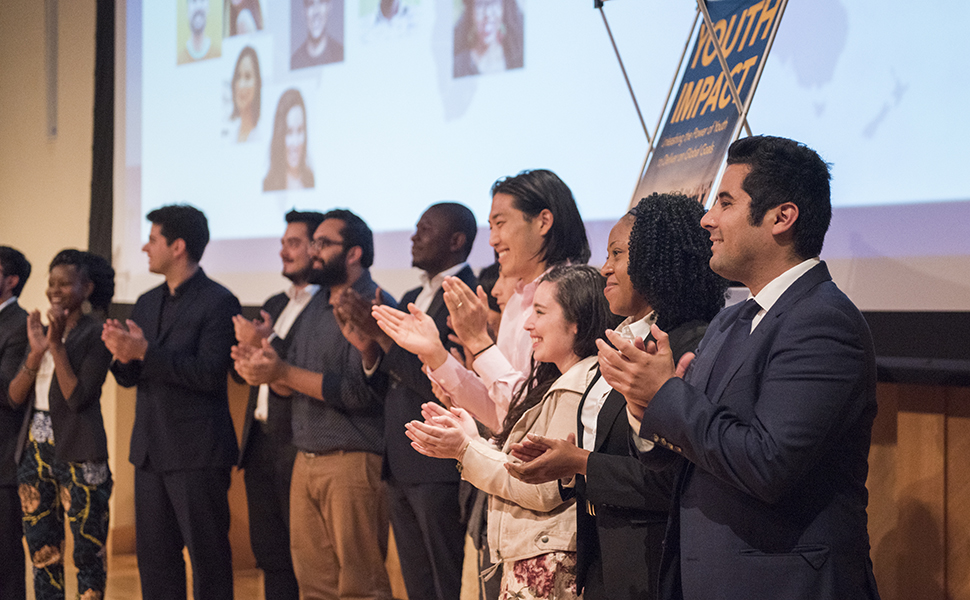 Today's 1.2 billion young people—the world's largest youth generation ever—represent a potent force for positive change. Many are already demanding and driving progress on major issues that affect us all. However, with more investment, there's even greater potential for new and existing young leaders to strengthen their impact and transform our world for the better.
The question of how to leverage the energy, passion, and idealism of youth to achieve the 2030 Sustainable Development Goals (SDGs) was front and center at Youth Impact, a half-day symposium co-hosted by IYF and the Beeck Center for Social Impact + Innovation at Georgetown University. With signature sponsors Laureate International Universities and Hilton, the event spotlighted grassroots innovations pioneered by young social entrepreneurs and advanced the conversation on how to strengthen ecosystems that spark and support youth-led social change.
"This generation will be the one that takes us to 2030, 2040, and beyond," emphasized IYF CEO Bill Reese in his opening remarks. "We need to tap into their power and potential to reach the SDGs and change the world."
Keynote speaker and IYF board member Sheldon Smith reinforced the value of networks such as IYF's Laureate Global Fellowship in connecting and supporting young leaders. "When I was a fellow [in 2011], I met people from around the world," said Smith, whose Chicago-based organization, the Dovetail Project, teaches young African-American men how to become better, more engaged fathers and community members. "I learned that fatherhood is a global issue—not a white or black issue, not just a Chicago or an American issue." Smith has since expanded Dovetail to four sites across Chicago, with plans to grow nationally.
Stressing the vital role of education systems in cultivating youth civic engagement, Tim Grace, Chief Human Resources Officer of Laureate International Universities spoke to Laureate's efforts to equip its students to be change-makers in their communities and the world. A signature partner of IYF's YouthActionNet® initiative, Laureate has been instrumental in expanding the program's reach to nearly 2,000 young social entrepreneurs in 94 countries. In addition, the model has been adapted in 23 locations in a global network, including 16 youth leadership institutes on Laureate campuses.  
Young people's passion for building more just, inclusive societies took center stage as three of the 20 2018 Laureate Global Fellows described their work to advocate for the rights of women and girls in India; equip disabled children with free, 3-D prosthetic devices in Chile; and combat loneliness and isolation among the elderly in Spain.
"For three days each month I was treated as untouchable by my own family because of menstrual shaming," shared Sonal Jain Padamchand before a packed plenary audience. Padamchand went on to found Boondh, a social enterprise that works with schools, government, and business partners to dismantle the culture of shame and ignorance surrounding menstruation in India.
The day's panel discussions explored the role of media and technology, university systems, and public-private partnerships in increasing youth agency and impact. Stories of youth success were tempered with youth challenges—the lack of credibility given youth voices, tokenism, and inadequate funding for youth-led initiatives. "You need resilience," said Cheryl Dorsey, President of Echoing Green, in moderating a panel on unlocking the potential of youth to create change. "It's about getting up when you fail and continuing on the social entrepreneurial journey."
IYF Director of Social Innovation and Citizenship Ashok Regmi encouraged attendees to "be audacious," and, for the development sector in particular, to take risks in leveraging youth-led social change models as a type of research and development. He stressed the need for greater investment in grassroots networks of youth, given the agility and innovative nature of their approaches and young people's loss of trust in formal systems.
The Georgetown event capped a week-long training for the 2018 Laureate Global Fellows. Sessions on personal leadership, storytelling, systems thinking, power dynamics, and other topics, created spaces for Fellows to share experiences and gain new tools. Each also contributed their expertise to an ideation lab, organized by program sponsor Hilton, as part of the company's commitment to redefine sustainable travel and tourism and halve its environmental footprint by 2030.  
Find more on IYF's work to support young social entrepreneurs in advancing the SDGs in our new publication, Youth Rising.