5 Recommendations for Reconnecting Youth in Baltimore & Beyond
Read All Posts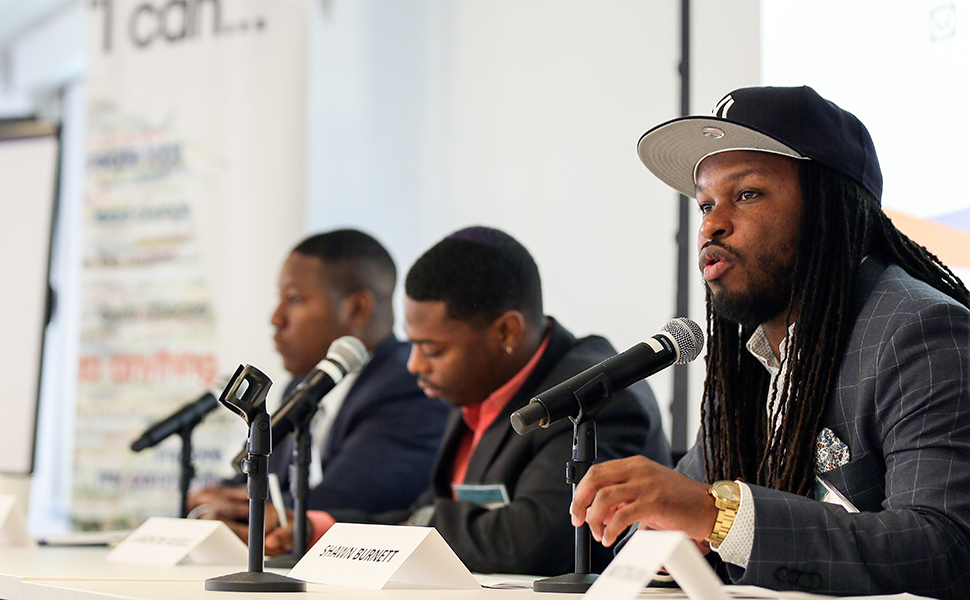 Young people possess great potential, but when they become disconnected from school, work, and other vital areas of life, this potential too often goes untapped. Opportunity youth—young people not currently in school, work, or training—are found in every country, developing and developed. In the United States alone, the number approaches 5 million; worldwide, it exceeds 500 million. For more than a quarter century, the International Youth Foundation has worked with partners to connect, or reconnect, youth with the opportunities they need to thrive. It is our mission to elevate the youth voice and empower young people to take active roles in tackling the challenges that affect their lives. 
On October 19, IYF was joined by the Annie E. Casey Foundation and the Robert Wood Johnson Foundation (RWJF) to host Opportunity Youth: A Cross-Border Dialogue. Recognizing that global issues require global cooperation, IYF created the (Re)Connecting Youth initiative with support from RWJF to facilitate cross-border knowledge sharing of strategies and best practices for working with opportunity youth. At the October event, attendees heard from participants in a recent (Re)Connecting Youth learning exchange between three Baltimore City agencies and a peer organization in Tijuana, Mexico called Fronteras Unidas Pro Salud. In addition, four Baltimore City community leaders, who the Casey Foundation hired as consultants, shared findings from a research study they conducted with other young people throughout the city. Among many stories, insights, and recommendations, five takeaways emerged as especially important for helping opportunity youth everywhere.
Seek solutions beyond cultural differences. Reflecting on the Baltimore-Tijuana learning exchange, Kerry Owings from the Mayor's Office of Employment Development noted, "Youth in Tijuana and youth in Baltimore face similar challenges and have similar strengths." In both cities—and in many other cities worldwide—generational poverty, lack of education and employment opportunities, drug addiction, teen pregnancy, and a host of other issues must be overcome. However, as the recently released Global Youth Wellbeing Index highlighted, young people across the globe are optimistic about the future and powerfully able to contribute to finding solutions. 
Meet opportunity youth on their terms. Pro Salud board member Marionne Rubio cautioned against waiting for young people to come to you for help. "Go where youth need you to be," she urged. "Churches, soccer fields, community centers, juvenile detention and rehabilitation centers." The consultants who conducted research with the Casey Foundation and spent considerable time engaging youth on the streets of Baltimore, agreed. "If you're afraid to talk to the people you want to serve, that's a problem," Lamontre Randall said. He suggested meeting youth in neighborhood recreation centers because they feel safe in such trusted community spaces.
Listen to what opportunity youth say. Far too often, young people are treated as passive recipients of assistance, rather than capable agents of change. Shawn Burnett, another research team member, explained: "I don't own a yacht, so I'm not a subject matter expert on yachts. But, if I'm poor and in need, I am an expert about being poor and in need." Often, opportunity youth know what they need to achieve their goals—they just require the right people to pay attention.
Utilize other community members. Jacque Hayden of Baltimore City Public Schools emphasized the importance of forging relationships within communities. "When you are dealing with young people, you need people who can reach them," Hayden said, because you might not always be the best messenger. The consultants recommended building the capacity of community mentors, ensuring they have the information, resources, training, and support they need. "These people are key communicators," DeJuan Patterson explained. "They're trusted, and can help disseminate your message and connect you with the youth you're trying to serve."
Facilitate meaningful youth contribution. Simply including a young person on an advisory panel is not enough. According to researcher Imani Victoria Bryan, incorporating the youth perspective must move beyond mere tokenism. "If you have a young person on your advisory panel," she advised, "hold meetings after school hours so youth can really participate. You can't talk about them without having them at the table." Vira David-Rivera from Baltimore City Health Department agreed. "We must prepare young people to take a seat at the table and steer policy in a more informed way."
Initiatives like (Re)Connecting Youth and events like this one are important because they unite individuals with a vested interest in helping youth succeed and facilitate conversations and knowledge sharing that might not ordinarily occur.
If you missed the October 19 event, watch Opportunity Youth: A Cross-Border Dialogue on IYF's YouTube channel and visit the (Re)Connecting Youth website to learn about upcoming learning exchanges. Later this year, the Annie E. Casey Foundation will release a full report of its youth-led research. 
Photo by Patricia Dávila