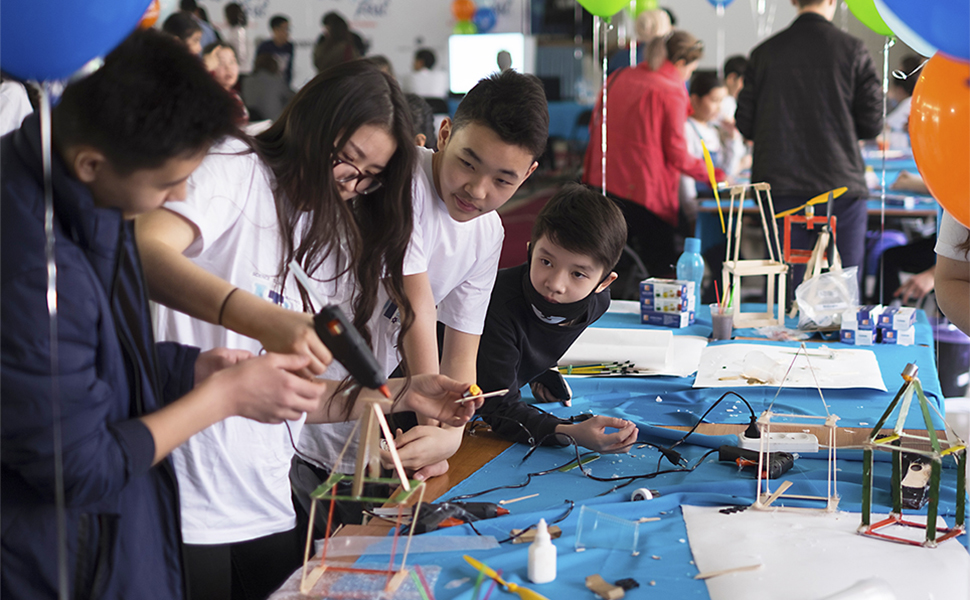 To some, STEM—science, technology, engineering, and mathematics—might sound difficult, boring, or simply unfamiliar. Through the Zangar initiative in Atyrau, Kazakhstan, we've set out to support young people not just in deepening their skillsets, but in expanding their understanding of how fun, creative, and rewarding a STEM education can be. 
The idea of a curriculum focused on STEM is still relatively new in Kazakhstan. In partnership with Chevron and the Akimat of the Atyrau region, Zangar has helped expand life skills and STEM programming in the area and also hosts family-oriented learning events for parents and children from the community. I recently traveled to Atyrau to attend a community STEAM Festival—the A stands for art. Dozens of teenaged volunteers, many of whom were Zangar participants, stood behind activity tables as parents and children filed in. At one table, an interactive map of Kazakhstan displayed vivid images of a location on a screen whenever a child answered a question correctly about a specific region on the map. At another station, children made melodies by turning the crank of a wooden music box that was built in Fabrication Laboratory Atyrau (Fab Lab Atyrau) using laser-cutting technology. Through fun, hands-on activities like these, volunteers taught children and adults interesting science-related principles.
Here are 3 additional takeaways that came across loud and clear at the Zangar STEAM Festival. 
STEM is about more than memorizing facts, learning code, and solving for X. Of course, STEM training does prepare young people to work with the smart machines of today and tomorrow, but as the exhibits at the Zangar festival illustrated, a STEM education—especially one that includes an arts component—also equips and challenges students to apply their technical skills and knowledge in innovative, creative ways that fosters flexible, critical thinking and creative problem-solving. "STEM definitely requires creative thinking," said Zangar volunteer and STEM student Kenzhebek, whose band Strings was scheduled to play at the STEAM Fest later in the day. "You have to be creative to design an original project." In fact, each of the activities at the festival was designed and made by IYF staff and Zangar youth, in the Fab Lab, using a potent combination of cutting-edge technology, technical knowhow, and practiced creativity. This is good news because, according to a recent World Economic Forum (WEF) report, complex problem solving, critical thinking, and creativity will be the top 3 skills employers will look for in 2020. 
STEM is for everyone—especially girls and young women. Far fewer women than men pursue educational and career tracks in STEM, so it's important to show girls—and their parents—that the option is open to everyone. Lana, a young Zangar volunteer, explained: "I'm from a small village where there are not many opportunities for girls to get involved in STEM." Currently, Lana is a second-year student at APEC Petrotechnic College in Atyrau, preparing for a career working with instrumentation in the gas and oil industry. At the STEAM festival, she taught children about wind-generated power by helping them build simple windmills using sticks, glue, and plastic propellers. Lana and the other young women volunteering served as strong role models for the girls who visited, showing them that anything is possible.
STEM education prepares youth for many career options. Like Lana, some other STEM students plan to pursue careers in the oil and gas industry, which is a popular path in Atyrau. However, with the combination of technical skills and creative thinking they'll acquire and develop studying STEM, there are many viable options. At the Zangar event, one high school student named Alemkhan dreams of becoming an entrepreneur and has already put his STEM skills, acquired through Zangar Capstone club training, into practice designing a machine that recycles plastic for use with a 3D printer. Kairali, a young man studying information technology (IT) at Atyrau State University, said, "I want to work as a designer in the gaming industry." With the technical knowledge they acquire, coupled with the development of critical and creative thinking skills, these young women and men will be equipped to succeed in any number of STEM careers. Moreover, it prepares them to be the kind of adaptable, lifelong learners that can change careers if the need arises. 
At the end of the STEAM Festival in Atyrau, the band Strings played for the crowd. Demonstrating the depth of his creativity, Kenzhebek picked and strummed an acoustic guitar while two other young people sang. I stood next to a boy wearing a baseball cap with the word HOPE written on the front in big gold letters. If what I experienced at the STEAM Festival is any indication, the future for Kazakhstan's young people will indeed be a hopeful one.